Supporting enterprises to remove difficulties and develop sustainably
ABO – The Tien Giang province has 4,909 enterprises operating with the average investment capital of VND 6.9 billion per each enterprise. There was a sharp increase, reaching 11.9% in enterprises and 87% in registered capital, compared to the same period last year.
In order to help enterprises overcome the difficulties and develop sustainably, contributing positively to local socio-economic growth, creating jobs for laborers, the Tien Giang province has increased loan support, creating favorable conditions to help enterprises expand their production and business and improve their operation efficiency.
According to the State Bank of the Tien Giang province, from the beginning of the year, the province has 1,680 enterprises enjoyed loan from banks in the province, with total outstanding loans of VND 16,430 billion, accounting for 36.06 % of total outstanding loans of the province, increasing by VND 1.452 billion compared to 2017.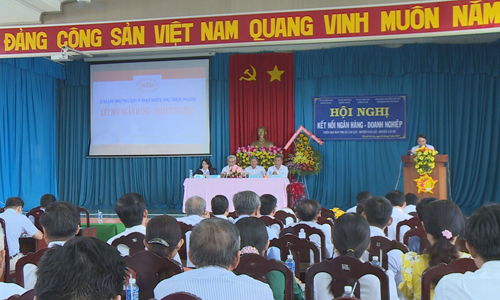 At the bank-enterprise connection conference on May 24 at Cai Lay town. Photo: thtg.vn
Implementing the policy on enterprise development, encouraging entrepreneurship in the locality, the Tien Giang province has many policies to support credit for enterprises in need. In particular, the province continued implementing the credit policies of the Government, the State Bank of Vietnam such as interest subsidy under the Government policy to reduce losses in agriculture, continuing credit policy on loans agricultural and rural development, etc…
Many commercial banks timely implemented preferential credit packages to help enterprises access more credit capital at preferential interest rates; improving the quality of services and ensuring the safety of customers, etc...
In addition, the Tien Giang province organized periodic meetings to connect banks and enterprises, enhancing the role of the small and medium enterprise guarantee Fund. Thereby, it created favorable conditions for enterprises to borrow capital from banks but lacking collateral, contributing to the credit policies to enterprises in life, timely solving difficulties, helping businesses step up production in the spirit of development cooperation.
By MONG TUYET – Translated by HUU CHI


.