Tien Giang province brings into play the potential of orchards specialties
ABO – The Tien Giang province has currently expanded the area of orchards to 75,300 hectares, up more than 2.3% over the same period last year. By the end of August, 2018, the province has harvested over 865,000 tons of fruits supplied to the market, up 2.6% over the same period last year. The province strives to produce more than 1.3 million tons of fruits in 2018.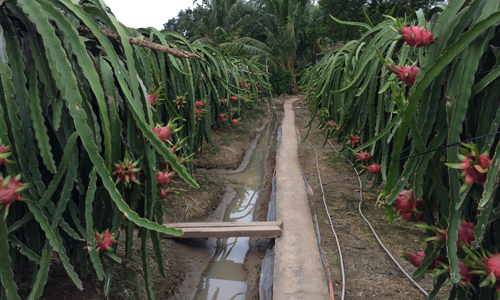 Illustrative image. Photo: HUU CHI
In order to bring into play the potential and economic strength of the garden, the province has identified special fruit trees with competitive advantages such as the Hoa Loc sweet mango, the Lo Ren Vinh Kim star apple, the durian, the pineapple, the dragon fruit, ... On that basis, the province encouraged people to invest in the improvement of mixed gardens, forming the specialized farming areas, applying comprehensively scientific and technical solutions to achieve productivity, high output and good quality to enter the domestic market as well as export.
The province has built a specialized pineapple (pineapple) cultivation area of more than 15,000 hectares in Tan Phuoc district, over 9,000 hectares of the durian in flooded districts of the Tien river, 5,000 hectares of the dragon fruit in the east of the province, over 4,000 hectares of the mango, etc… The profit from fruit orchards was higher than many times if compared with rice monoculture.
Through surveys, the white flesh dragon fruit brings profits about VND 360 million/hectare/year; the red flesh dragon fruit bring profits about VND 600 million/hectare/ year or more; the durian brings profits about VND 1.2 billion/hectare/year; the sweet mango brings profits about VND 1 billion/hectare/year. By promoting the potential of orchard specialties, the Tien Giang farmers have a stable life, agricultural and rural renewal and as an important factor helping the program to build new rural areas soon successfully.
By MINH TRI – Translated by HUU CHI

.