The western districts harvest the summer-autumn rice
ABO - On these days, farmers in the western districts are rushing to harvest the summer-autumn rice for prevent from floodwaters and high tides.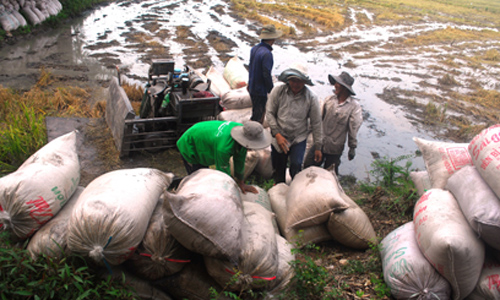 Farmers in the My Thanh Bac commune (Cai Lay district) harvest the 2018 summer-autumn rice. Photo: S.NGUYEN
According to our records, yield of rice was not high with about 5.5 - 6 tons/hectare and the price was only VND 5,500 - 5,800 VND/kg (depending on type). The reason for low rice yield was the long stagnant water in the rice field, which caused the quality of the rice and seeds being reduced. In addition, many types of flatulence, pollen blight also appeared quite at this time, etc...
Director of the Tien Giang province Department of Agriculture and Rural Development Nguyen Van Man said that Cai Be district, Cai Lay district, Tan Phuoc district, Chau Thanh district and Cai Lay town cultivated nearly 41,000 hectares. So far, there are over 38,700 hectares harvested and 2,100 hectares will be harvested from now until October 17. In particular, the area of rice is not harvested in Cai Be district about 400 hectares, 373 hectares in Cai Lay district, 980 hectares in Cai Lay town, 286 hectares in Chau Thanh and 135 hectares in Tan Phuoc district.
In recent days, floodwater associated with high tides threatened many dikes, many temporary dams in these un-harvested areas. However, thanks to the reinforcement of the sewer system, the dam and the upgrading of the low dykes, these areas are still safe, according to Nguyen Van Man. Through the recent tide, all areas of summer-autumn 2018 in the area were not flooded.
By S.NGUYEN – Translated by NGUYEN HUU
.