Memorial site of Uncle Ho visiting Tra Co ranked as provincial - level historical site
Tuesday, 21/03/2017, 09:18 [GMT+7]
Mong Cai city solemnly held a ceremony on March 16th to receive the certificate ranking as a provincial-level historical relic the memorial site of Uncle Ho's visit to Tra Co.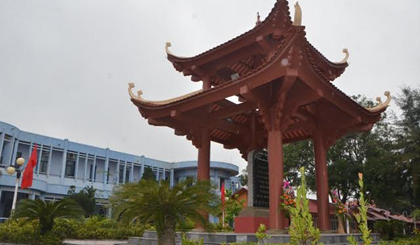 The memorial site in Tra Co ward, Mong Cai city (Photo: qtv.vn)
On May 8th, 1961, Tra Co locality was honoured to welcome Uncle Ho to visit and talk with officials and people of Tra Co, which has been a great motivation, encouraging officials and people there to be always united to strive to accomplish outstanding tasks. In 2004, a memorial stele was set up to mark Uncle Ho's visit and it has become a place of traditional education for the local people.

On January 16th, 2017, the Quang Ninh provincial People's Committee issued a decision ranking this place as a provincial level historical relic. This is an important legal foundation that affirms its cultural value, and establishes the basis for preservation of the inherent value of the relic, as well as demonstrates the responsibility of officials and people of Mong Cai city in the preservation and promotion of the value of the relic.
(Source: CPV)