Semifinalists of 2018 National Cup confirmed
ABO/NDO – The quarterfinals of the 2018 Vietnamese National Cup officially wrapped up on May 15, with Hanoi FC, FLC Thanh Hoa, Song Lam Nghe An, and Becamex Binh Duong confirmed as the four semifinalists.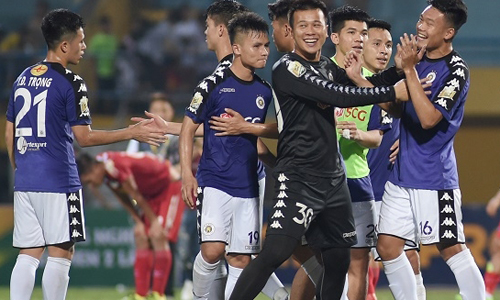 Hanoi FC players celebrate with joy. (Photo: NDO/Tran Hai).
Despite being considered favourites, Hanoi FC had to resort to the away goals rule to advance against Hoang Anh Gia Lai in a highly anticipated second-leg quarterfinal clash at Hang Day stadium on Tuesday.

Drawing 2-2 in the first leg, Hanoi needed at least a goalless draw or a 1-1 tie to book a semifinal ticket while playing host to Hoang Anh Gia Lai in the return leg.

Given that fact, the home side played offensively and poured constant pressure on the guests during the first 45 minutes.

Hanoi FC produced 16 shots on the Gia Lai goal in the first half, but none were converted into an opener for manager Chu Dinh Nghiem's side.

The host team's profligacy was punished immediately after the break, as Van Toan broke though Hanoi's defence and opened the scoring for Hoang Anh Gia Lai with a powerful strike.

With time running out, Hanoi upped the tempo in search of an equaliser. It was not until the 81st minute that their efforts came to fruition, with Thanh Chung coming off the bench to head home a precious equaliser for the home side.

With an aggregate 3-3 draw, Chu Dinh Nghiem's side qualified for the semifinals thanks to the away goals rule, as they scored twice at Pleiku stadium in the first leg, compared to Gia Lai's solitary goal at Hanoi's home field in the second leg.

In other quarterfinal matches, Song Lam Nghe An, FLC Thanh Hoa, and Becamex Binh Duong booked their semifinal tickets after securing aggregate 5-1, 3-1, and 4-1 victories over SHB Da Nang, Binh Phuoc, and Sanna Khanh Hoa, respectively.
(Source: NDO)
.