The "Don Ca Tai Tu" festival about the construction of new rural organized
ABO - On the evening of September 14, in Tan Ly Tay commune, Chau Thanh district, the Tien Ging provincial Farmers' Association organized the the 4th night "Don Ca Tai Tu" festival with the theme "Farmers working together to build new rural" to welcome the Congress of the Farmers Association term of 2018-2023 expected to take place in late September.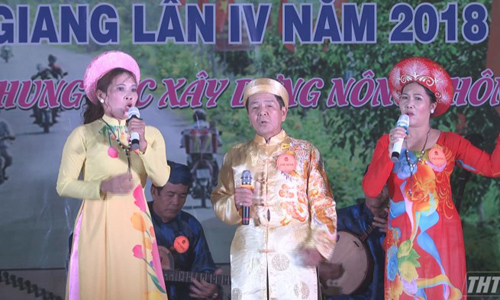 An art participates in the festival. Photo: thtg.vn
There were six teams participated in the festival of singing talents of group 1 including the Cai Be district, Cai Lay district, Cai Lay town, Tan Phuoc district, Chau Thanh district and My Tho city with a total of 72 staff members and cadres or farmer members.
Each unit performed a 30- to 35-minute program, calling for farmers to work together to build a new rural, praising homeland, the country, praising the Party and Uncle Ho, praising the class farmers and Vietnam Peasants Association, praising the love of couples, building a civilized lifestyle, cultural families.
Thanks to the careful preparation, the teams gave the audience a variety of special acts with cultural value. The festival not only propagandized building new rural areas for farmers but also contributed to preserving and promoting the advanced culture deeply imbued with the national identity of the Vietnamese people in the period of comprehensive international integration.
(According to thtg.vn – Translated by HOANG AN)

.