Vietnam finishes seventh in men's Chess Olympiad event
ABO/NDO – Vietnam's male chess players officially wrapped up their campaign at the 43rd Chess Olympiad in Batumi, Georgia, with a convincing 3-1 victory over the Philippines in the last round on October 5 (local time).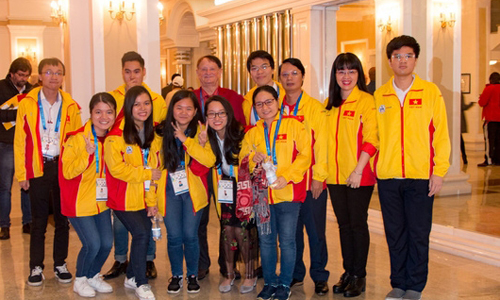 The Vietnamese team on the closing day of the 43rd Chess Olympiad.
The significant triumph helped the Vietnamese team jump up to seventh place overall among the total 185 participating delegations, with a total of 16 points earned after six wins and four draws, equalling their best performance recorded in 2012.

In terms of individuals, GM Nguyen Ngoc Truong Son claimed the gold medal in Table 2 with 8.5 points after ten games. Meanwhile, top Vietnamese player Le Quang Liem finished in 10th place among the key competitors in Table 1, following his crucial last-round win against Pascua Haridas.

16-year-old Nguyen Anh Khoi produced a top 20 finish in Table 4, settling for 17th with seven points after 11 matches – a highly encouraging result on his Olympiad debut.

Nguyen Ngoc Truong Son wins the gold medal in Table 2.

Meanwhile, by drawing 2-2 with no. 11 seed, Azerbaijan, Vietnam's women's team completed their Olympiad campaign in 15th position among the total 150 participating delegations, scoring 15 points after six wins and three draws.

The individual performance of the female Vietnamese players was also encouraging as Pham Le Thao Nguyen finished sixth in Table 2 and Nguyen Thi Mai Hung finished fifth in Table 4.

The 43rd Chess Olympiad brought together more than 1,600 competitors from 185 countries and territories worldwide. Vietnam was represented by five male players – Le Quang Liem (world no. 30, Elo 2715), Nguyen Ngoc Truong Son (Elo 2620), Tran Tuan Minh (Elo 2491), Dao Thien Hai (Elo 2477) and Nguyen Anh Khoi (2463) – and five female players, namely Vo Thi Kim Phung (Elo 2368), Pham Le Thao Nguyen (Elo 2347), Hoang Thi Bao Tram (Elo 2323), Nguyen Thi Mai Hung (2244) and Bach Ngoc Thuy Duong (2161).
(Source: NDO)
.