Painters join COVID-19 fight efforts with hundreds of propaganda paintings
ABO/NDO – A total of 103 propaganda paintings, made by 23 painters nationwide, have been submitted to the Ministry of Culture, Sports and Tourism's Department of Grassroots Culture in response to a campaign on creating propaganda paintings regarding COVID-19 prevention and control, launched by the department between March 10 and 15.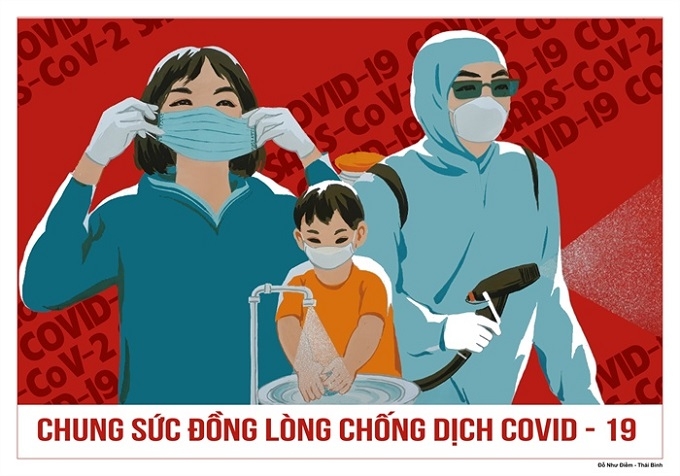 A propaganda work by painter Do Nhu Diem from Thai Binh province.
All the entries contain comprehensible and relevant messages, through which the authors have expressed their wish to join hands in fighting the epidemic.

From the 103 submissions, the arts council has selected 14 outstanding paintings to serve the communication work concerning the COVID-19 fight in Vietnam. On that basis, the Department of Grassroots Culture will organise the publishing of four painting samples and 1,000 discs of propaganda posters which will be sent to cities, provinces and districts across the country, particularly localities in Hanoi, Ho Chi Minh City and Da Nang city, for grassroots communication.

Hanoi's painter Do Trung Kien participated in the campaign with 10 propaganda paintings, which are demonstrated in different styles and forms. He stated that shortly after receiving the invitation from the organising committee, he only thought of how to best express the necessary messages, so that the whole society would join hands and unite to repel the disease.

Painter Luu Yen The (Hanoi) said that, unlike other competitions, the ultimate goal of this campaign is to promote the painters' creativity to produce the most persuasive propaganda paintings.

He joined the campaign with two paintings that transmit relevant and practical messages, including "in case of fever, coughing and shortness of breath, go to the nearest medical establishments for advice, examination and treatment" and "regularly wearing masks for effective COVID-19 prevention and control". Both these works have been highly appreciated by the arts council because of their communication efficiency and artistic quality.

The painters expressed their wish that their works will be widely disseminated by means of mass media and social networks to best promote the effectiveness of the propaganda, thereby raising the people's awareness in COVID-19 prevention and control.
(Source: NDO)
.