Exhibition harmonises architecture and contemporary arts
ABO/NDO – An exhibition entitled 'Lo' (Exposure) was recently held in Hanoi, providing an opportunity for visitors to engage in a contemporary art exhibition, art performances and architectural talk shows.
Hosted by Weplay, a group of 11 architects from famous architectural firms in Hanoi, from April 9 to 15 at 282 Workshop, 156 Phu Vien Street, Long Bien District, the event gathered the participation of many talented artists including musician Ngo Hong Quang, singer Ha Le, dancer Linh An, sculptor Vu Binh Minh, and painter Nguyen Duc Phuong.
The 500 sq.m exhibition space was divided into two areas, one for displaying artworks and the other for staging talk shows.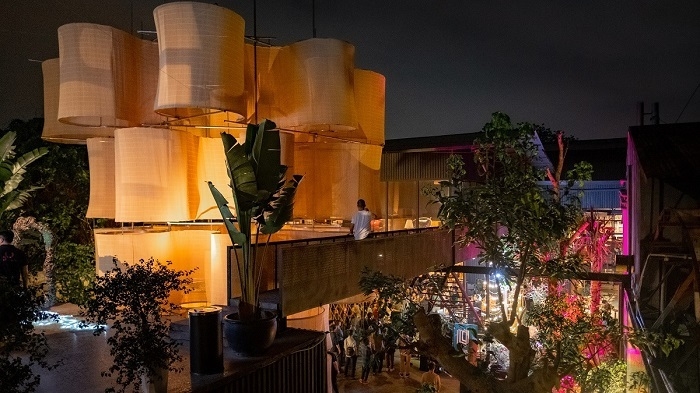 An overview of the exhibition (Photo: kienviet.net).
Exhibits in the displaying area included projects, works and designs of famous architects who have promoted their talents and creativity in generating positive value for the community.
Sculptor Vu Binh Minh brought to the event his steel installation work entitled 'Cong Troi' (Sky Gate). Contrary to common belief that steel creates a heavy and rigid feeling, Minh's work reminds viewers soft clouds in the sky with a door opening wide to endless paths.
The opening ceremony featured performances by dancer Linh An, who entertained audiences with her charming Broadway jazz movements; musician Ngo Hong Quang, who has great passion for folklore music; Mau Nuoc (Watercolour) Band; and singer Ha Le.
Meanwhile, architectural talk shows provided the listeners with basic knowledge on furniture manufacturing as well as ways to bring the arts and technologies into reality.
'Exposure' is the second exhibition by the Weplay group, following the first one named 'Phu Sa' (Alluvial) in March 2019, during which the group's members were inspired by Red River to convey their messages about life and Eastern philosophy.
(Source: NDO)
.