Winners of De Men Awards to be announced on Children's Day
ABO/NDO – A ceremony will be held on International Children's Day (June 1) to announce and honour the winners of the second "De Men" (Cricket) Awards for Children, according to the organiser, the Vietnam News Agency's Thao & Van Hoa (Sports & Culture) Newspaper.
Having kicked off in late March 2021, the competition still reached its planned target despite the impact of the COVID-19 pandemic, receiving nearly 120 entries, or 20 more than in the first edition last year.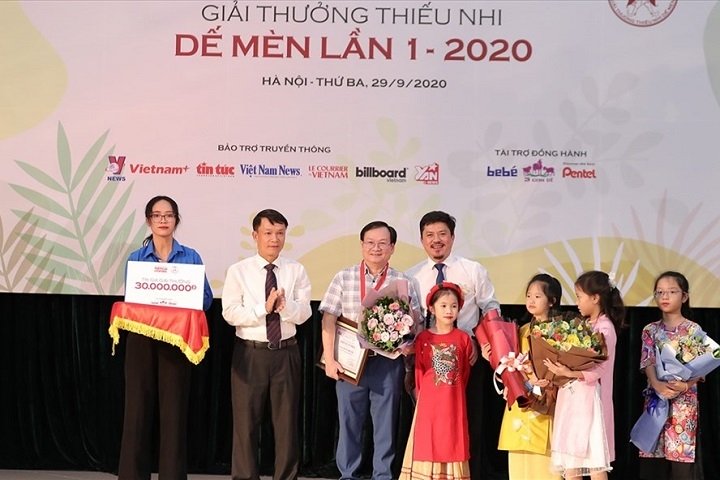 Writer Nguyen Nhat Anh (third from left) receives the Cricket Knight prize at the 2020 De Men Awards for Children. (Photo: Organising Committee).
The quality of the 2021 submissions is highly appreciated, with the appearance of many well-known authors, including those who had to race against the clock to finish their manuscripts at the last minute.
The entries are in various genres, such as fantasy, bilingual novel, long stories, medium-length stories, short stories, novels, poems, animated films, and music.
Sixteen outstanding works were selected for the final round, including eight books and picture books, two fine arts works, three films and three musical works.
From May 20-27, a judging panel led by poet Tran Dang Khoa, Vice Chairman of the Vietnamese Writers' Association, selected one major prize, called "Cricket Knight", and several "Cricket Desire" prizes.
Last year, the Cricket Knight prize, worth VND30 million (around US$1,300), was presented to writer Nguyen Nhat Anh for his work "Lam ban voi bau troi" (Make Friends with the Sky).
(Source: NDO)
.