Music festival entertains Hanoi fans with power-packed performances
ABO/NDO – The 'Thank you, Vietnam by VinaPhone' music festival was staged at Dong Kinh Nghia Thuc Square in Hanoi on June 11, attracting nearly 30,000 live audience members and hundreds of thousands of views on social media platforms.
The event was held to celebrate the 26th anniversary of the mobile network operator VinaPhone.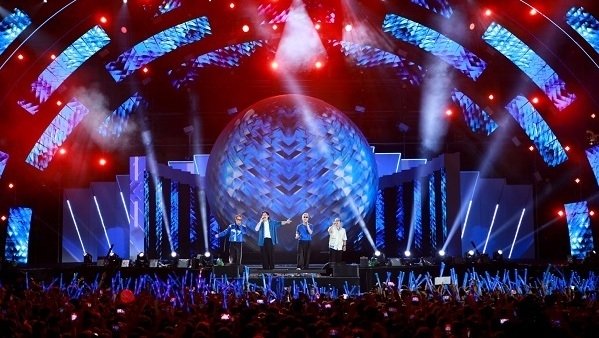 A performance by DaLab music band at the festival.

It featured some young favourites such as JustaTee, Erik, Vu Cat Tuong, DaLab band, DJ Tuan Kruise, and rapper Hoang Anh, who ignited the stage with exciting and power-packed performances.
The combination of choreography, music and stage technology brought about a fancy party of music, awakening all senses and excitement among the audience attending the show.
Tran Hung, a young audience member at the event, shared that the music festival generated bursts of musical emotions for him. "It has been a long time since I have immersed myself in such a space full of energy and enthusiasm", he said.
(Source: NDO)
.