E-waste needs more recycling effort
The disposal of electronic waste in Việt Nam has been rapidly increasing for several years. However, the current recycling process amounts to preliminary processing and can hardly produce raw materials for re-production, experts have said.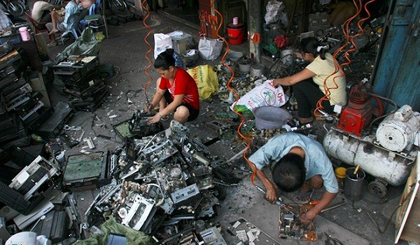 Discarded electronic waste is forecast to rapidly increase in Viet Nam.
The Hà Nội University of Technology's Institute of Environmental Science and Technology recently reported that the amount of electronic waste in Việt Nam had been increasing by 100,000 tonnes annually, mainly from household electric appliances, office equipment, such as computers, photo-copiers and fax machines, and faulty electronic products and illegally imported waste equipment.

According to the General Statistics Office, Hà Nội is expected to discard 161,000 TVs, 97,000 PCs, 178,000 refrigerators, 136,000 washing machines and 97,000 air conditioners by 2020.

HCM City, meanwhile, predicts even higher disposal rates, with 700,000 TVs, 290,000 PCs, 424,000 refrigerators, 339,000 washing machines and 330,000 air conditioners.

Dr Đặng Thị Kim Chi, chairman of the Science and Technology Council and the Association of Natural and Environmental Protection, said that the waste should be used as a special source for recycling.

However, present work amounts to dismantling, grinding and sorting materials.

"This is only preliminary processing as we have to take metal to foreign countries to refine materials," she said. "Recycling should produce the final product".

Dr Nguyễn Đức Quảng, lecturer at Hà Nội University of Technology's Environmental Management Faculty, said there were 15 businesses licensed to dispose of electronic waste. They had a capacity of between half a tonne and three tonnes a day. However, the technology is only material classification and collection, mainly for common metals, such as copper and aluminum.

Quảng said the application of recycling technology was not difficult. The important issue was how to ensure a stable input.

Chi agreed, adding that most of households sold their old electronic items to scrap dealers or private electronic repair shops rather than donating them to e-waste treatment companies.

E-waste treatment companies could not purchase electronic items as other private businesses due to high costs because they had to pay taxes for environmental protection.

Quảng said the collection of electronic waste was currently carried out mainly by scrap dealers, private electronic repair shops or garbage agents. Electronic waste was removed at e-waste treatment centres, such as Tràng Minh in Hải Phòng City, Bùi Dâu and Phan Bôi in the northern province of Hưng Yên and Tề Lỗ in the northern province of Vĩnh Phúc.

This had made it difficult for the State to control e-waste effectively, he said.

According to experts, what is needed is a stable source of e-waste and favourable policies to attract enterprises to invest in modern recycling technology.
(Source: VNS)

.