Malware affects 71 percent of computers, mobile devices
ABO/VNA – Up to 71.38 percent of computers and mobile devices in Vietnam are getting infected with malicious viruses, but only 11 percent of the users are aware they have been victims of cyber-attacks, according to the Authority of Information Security under the Ministry of Information and Communications.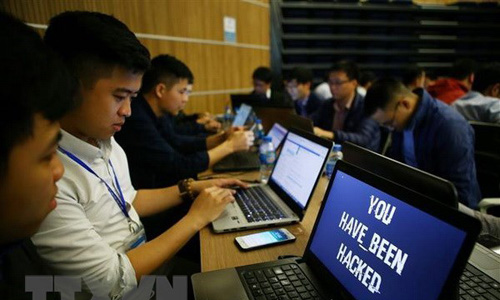 Illustrative image (Source: VNA)
Director General of the Authority Nguyen Thanh Hai said that shortage of vigilance from individuals and organisations is the main cause of over 90 percent of cyber-attacks. Information security is throttling the country as many people refuse using legal software and other copyright materials.

More than 4.77 million IP addresses in Vietnam were added to the network of "zombie" computers, or botnet. Some 1,020 websites have been hit by malware, which is capable of stealing private information of users. In addition, 12,685 addresses have sent out spam emails to countries worldwide.

The Authority said that mobile devices have become the leading targets for cyber-criminals for the purpose of wiretap, fake news, financial attack and data breaches.

Trend Micro, an information security and network safety firm, recently announced that Vietnam is listed among the top 20 countries in the world affected by blackmail ransomware. It also leads the Southeast Asian nation in cyber-attacks with more than 86 million spam mails detected in the first half of this year.
(Source: VNA)

.