Vietnam's leading IT companies announced
ABO/VNA - Most of the top tech firms in Vietnam performed well last year, with combined revenue reaching 374.4 trillion VND (16.7 billion USD) while employing around 93,000 workers in total.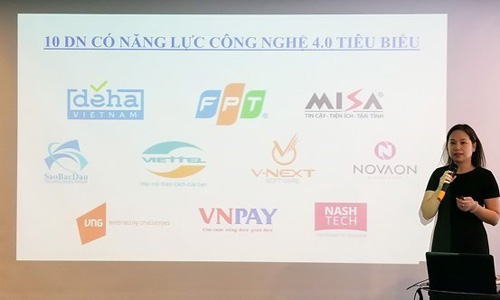 VINASA announces the list of outstanding IT enterprises in the Fourth Industrial Revolution (Photo: VNA)
This was the information by the Vietnam Software and IT Services Association (VINASA) revealed in Hanoi.

This year, aside from the selection of 50 leading IT companies, the organising board also picked up 10 outstanding enterprises in digital transformation, Internet of Things and new technology trends in the context of the Fourth Industrial Revolution.

VINASA said the IT businesses have strong growth and affects the trend in the market and IT sector in Vietnam.

The programme, the fifth of its kind, picked prestigious IT firms in Vietnam to introduce, promote, and connect with potential partners at home and abroad.

In the past the programme has supported many effective businesses, especially those operating in the fields of marketing, communications, and cooperation development.

Launched in June, the businesses are split into four sectors including business process outsourcing (BPO), IT Outsourcing (ITO) and knowledge process outsourcing (KPO); software, IT solutions and services; digital content, mobile application and solutions and 10 firms with outstanding technologies in the Industry 4.0 such as FPT, Viettel, VNPAY and MISA.

Those chosen have been pillars in the country's IT industry with big potential such as Viettel, FPT and CMC.

In addition to big players in the IT market, the 10 outstanding businesses have also brought new solutions to society.

A special publication entitled "Vietnam's 50+10 Leading IT Companies 2018" will be compiled in Vietnamese, English, and Japanese.
(Source: VNA)

.