Campaign launched to call on joint action on plastic pollution
ABO/NDO – As plastic pollution is an inter-regional and trans-national issue, joint efforts and practical actions from all sectors, political and social organisation, businesses and every Vietnamese citizen are needed in the fight against plastic pollution in order to keep our planet green.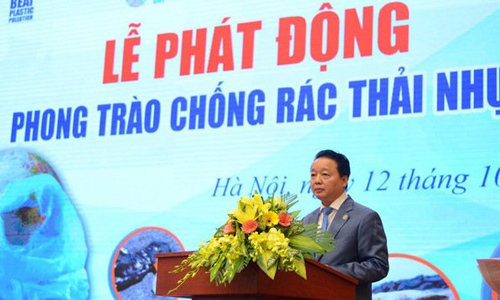 Minister of Natural Resources and Environment Tran Hong Ha speaking at the launching ceremony (Photo: toquoc.vn)
The message was delivered by Minister of Natural Resources and Environment (MONRE), Tran Hong Ha, at the launch ceremony of a campaign on beating plastic pollution, in Hanoi, on October 12.

According to Minister Tran Hong Ha, plastic pollution, especially maritime plastic pollution, has become a pressing issue globally. Therefore, it is urgently required to reduce the consumption of plastic products, nylon bags, and disposable plastic items.

'Beat Plastic Pollution' was chosen by the United Nations as the theme of the World Environment Day 2018, with the aim to combat single-use plastic pollution.

Minister Ha took the occasion to call on stronger measures to raise public awareness on plastic waste and nylon bags, as well as their impacts on the environment and people's heath.

He called for stepping up the application of technologies in the production of environmentally-friendly and recycled products to replace nylon bags and plastic items.

It is also necessary to strengthen the cooperation with international partners in resolving plastic pollution, he added.

According to UN Resident Coordinator in Vietnam, Kamal Malhotra, single-use plastic bags and the limited capacity of wastewater treatment have put increasing pressure on the environment and the community's health.

It is time to call for collective action to cope with one of the world's major challenges, which needs the engagement of all governments, businesses and people, he stressed.
(Source: NDO)
.