Vietnam exerts efforts to ease climate change impacts: official
ABO/VNA – As one of the countries hardest hit by climate change, Vietnam has been actively performing international commitments and exerting efforts to ease its impacts, on official has said.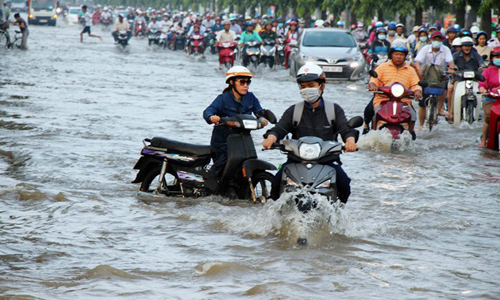 Vehicles wade through floodwater on Nguyen Van Cu street of Ninh Kieu district, the Mekong Delta city of Can Tho. Tidal surge has seriously flooded many streets in Can Tho since early October (Photo: VNA)
Deputy Minister of Natural Resources and Environment (MoNRE) Le Cong Thanh made the statement during a high-level dialogue on climate change which took place in Hanoi on October 10.

The event was jointly held by the MoNRE, the United Nations Development Programme (UNDP), and the Intergovernmental Panel on Climate Change (IPCC), with the participation of experts, managers, policymakers, scientists and businesspeople, among others.

Thanh noted that in addition to the adoption of the Paris Agreement on Climate Change, Vietnam has issued guidance for the implementation of the agreement focusing on the UN's Nationally Determined Contributions (NDCs).

Participants at the dialogue discussed activities relating to climate change response in Vietnam and seek solutions to promoting cooperation between the scientific community, entrepreneurs, organisations, partners, and individuals committed to adaptation to climate change.

Vietnam's contributions to global goals and climate change response in the fields of agriculture, rural development, natural resources, and the environment, among others, were also introduced at the event.

A special report by the IPCC on "Global Warming of 1.5 degrees Celsius", focusing on the impacts of global warming at 1.5 degrees Celsius above pre-industrial levels and related global greenhouse gas (GHG) emission pathways, was also revealed at the event.

The report stated that limiting global warming to 1.5 degrees Celsius rather than 2 degrees Celsius will lessen the considerable impacts to the ecosystem and human health, helping to achieve the UN's sustainable development goals.

Limiting global warming to the lower figure of 1.5 degrees Celsius will require rapid, far-reaching and unprecedented changes, said IPCC Chairman Hoesung Lee.

With clear benefits to the population and natural ecosystems worldwide, the aim of a more marginal heat increase will go hand-in-hand with ensuring a more sustainable and equitable society, he noted.

Caitlin Wiesen, UNDP Country Director for Vietnam, said the IPCC report noted that severe impacts of climate change could be avoidable by limiting global warming to 1.5 degrees Celsius, but time is running out.

Crucial changes are needed – similar to the comprehensive economic reform that Vietnam started 40 years ago – to reduce GHG emissions and generate green jobs towards a resilient and sustainable society, she stated.

The report highlights a number of climate change impacts that could be avoided by limiting global warming to 1.5 degrees Celsius, for instance, by 2100, the global sea level rise would be 10cm lower than a 2 degrees Celsius cap.

By 2100, the likelihood of the Arctic Ocean being without sea ice in the summer would be once per century with global warming of 1.5 degrees Celsius, compared with at least once per decade with 2 degrees Celsius. Coral reefs would decline by 70-90 percent with global warming of 1.5 degrees Celsius, whereas virtually all (more than 99 percent) would be lost with the high warming cap.

"One of the key messages that comes out very strongly from this report is that we are already seeing the consequences of the 1 degree Celsius rise in global warming through more extreme weather, rising sea levels and the diminishing Arctic sea ice, among other changes," said Panmao Zhai, Co-Chair of IPCC Working Group I.

Global temperatures are currently predicted to reach 1.5 degrees Celsius between 2030-2052, he warned.
(Source: VNA)

.