Tien Giang province is ready for the entrance examination in the grade 10th
ABO - From June 4 to 6, Tien Giang province will hold the entrance examination in the grade 10th of the academic year 2019-2020. This year, the whole province has over 18,000 candidates participating in 33 exam points in 11 districts and city, towns in the province.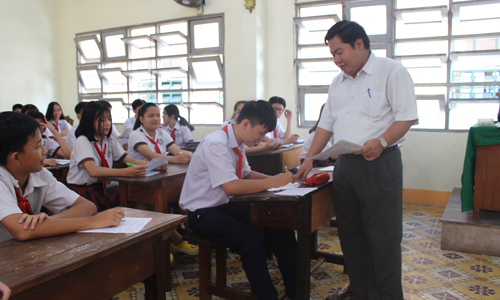 Teacher of Xuan Dieu Secondary School instructs students to make applications for the grade 10th enrollment in 2019. Photo: PHI CONG
On the first day (June 4), candidates will take Literature, English (in continuing education system replaced by Physics). In the morning of June 5, the finalists will complete the final exam in Math. Beginning in the afternoon of June 5 to the end of June 6, the contestants will take the specialized subjects to the Tien Giang Gifted High School.
According to the Tien Giang Department of Education and Training, all preparations for the exam has been now completed.
By DO PHI – Translated by HUU TAM

.