Tien Giang:
Promoting the application of information technology and administrative reform
ABO - Chairman of Tien Giang People's Committee has just chaired the online conference on information technology application and administrative reform in the province, on April 24.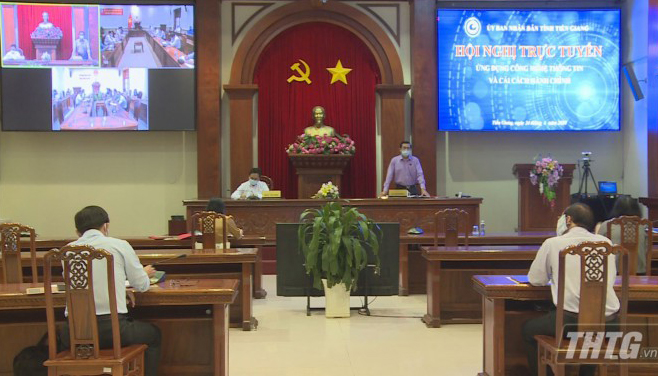 At the event. Photo: thtg.vn
In recent years, authorities at all levels, sectors and businesses in the province paid much attention and made great efforts in deploying the application of information technology in their operations; creating positive changes in awareness and action in information technology applications.
The basic information technology infrastructure met the information technology application needs of agencies, units, cadres, civil servants, officials and employees. The shared software system and specialized database have been invested and put into implementation, bringing about many efficiency in the state management of the sector.
Handling administrative procedures at the Center for Public Administration in Tien Giang Province
Especially, the application of document management and administration software system, official email, etc. has helped to reduce paper and document processing time; electronic one-stop software system brought efficiency, serving the state management as well as meeting the requirements of people and businesses. Currently, Tien Giang has over 2,000 administrative procedures posted on the public administrative service page, at: https://dichvucong.tiengiang.gov.vn, etc…
Chairman of Tien Giang People's Committee Le Van Huong emphasized the application of information technology and administrative reform is important to openly recognize the advantages and disadvantages in this work in order to continue to make better changes in the coming time, especially to enhance the satisfaction of people with public services.
He suggested that the Department of Home Affairs and the Department of Information and Communications should immediately develop an information technology application plan, focusing on the goal of targeting and serving people. In addition, heads of agencies and units need to change their thinking, raising awareness and sense of responsibility in the application of information technology in the management and direction of activities at agencies and units.
(According to thtg.vn – Translated by HUU CHI)

.