Vietnam marks 10 years since its first earth observation satellite
AB)/NDO- The Vietnam Academy of Science and Technology (VAST) held a ceremony to celebrate the 10th anniversary of the launch of VNREDSat-1, Vietnam's first earth observation satellite.
The launch of the satellite into orbit on May 7, 2013 was an important milestone in realising the space technology development strategy in Vietnam, said VAST President Chau Van Minh.
It was also the outcome of close cooperation between the VAST and Airbus, which developed the satellite, added Minh.
According to Director of the VAST Space Technology Institute Bui Trong Tuyen, VNREDSat-1 has been in orbit for ten years, twice its expected lifespan, and is still helping Vietnam address challenges in forest and water resources management, disaster management, mapping and urban planning, defence and security and coastal management.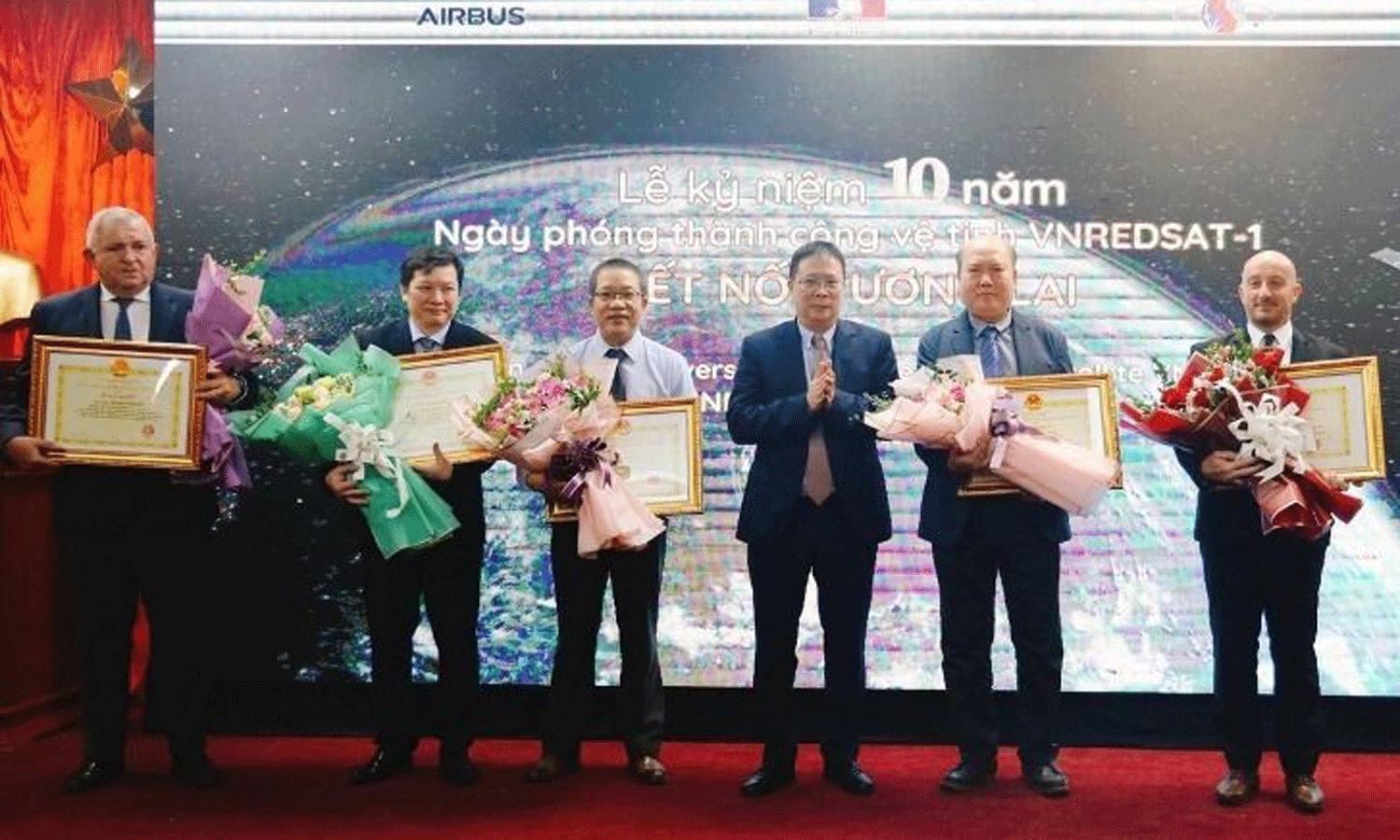 VAST President Chau Van Minh presents flowers and certificates of merits to contributors to the VNREDSat-1 project.
To date, the satellite has provided nearly 160,000 images of Vietnamese territorial land and waters as well as the world, giving Vietnam complete autonomy in remote monitoring of its natural resources, environment and disasters.
Speaking at the event, French Ambassador to Vietnam Nicolas Warnery stated that VNREDSat-1 is a prime example of successful cooperation in the field of space and satellites between France and Vietnam.
He expressed the hope for continued cooperation with Vietnam in this area, as well as sharing skills and expertise through providing training for young scientists and transferring technology so that Vietnam can establish an integrated space industry.
The ceremony concluded with the delegates visiting an exhibition of the first images captured by VNREDSat-1 in 2013 and its current images.
(Source: NDO)
.