Vietnam's ten outstanding young people 2017 announced
Wednesday, 14/03/2018, 20:46 [GMT+7]
ABO/SGGP - The Ho Chi Minh City Communist Youth Union has just announced ten Vietnamese outstanding young people in 2017 who got achievements in the fields of studying, science research, business, defense, sport, culture & art, social activities.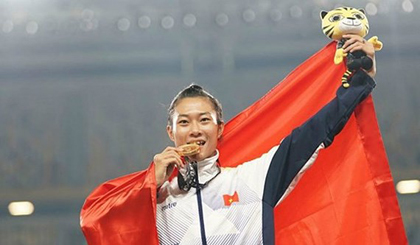 Athlete of Ho Chi Minh City Le Tu Chinh is one of ten outstanding young people of Vietnam in 2017.
Over 20 years ago, more than 20 young peoples were honored this title.
In 2017, the winners were chosen from a list of 135 nationwide nominees, including:
1. Dinh Quang Hieu (19 years old), from the University of Science under the National University of Hanoi, won the gold medal at the International Chemistry Award for two consecutive years and received certificate of merit of the Prime Minister in 2016.

2. Dr. Vu Bich Ngoc (32 years old) from Laboratory of Stem Cell Research and Application, University of Science under National University of Ho Chi Minh City earned the Golden Globe Award 2017 in the fields of science and technology.

3. Pham Huy (18 years old) from the High school of Quang Tri town received certificate of the Ministry of Educational Training in 2017, won the second prize of the provincial level science and technology contest and was the winner of the 2017 National Science-Technology Competition 2017.

4. Vu Van Binh (29 years old ) from Viettel Telecom Corporation, who was presented certificate of the Central Executive Committee of Communist Youth Union and certificate of the Ministry of Defense.

5. Nguyen Khoi (27 years old), a founder - CEO of Wefit who became one of 16 outstanding young creative start-up citizens of Hanoi capital in 2017, listed top three start-up potential people in 2016 at the StartUp Festival and top ten excellent young start-up people 2017…

6. Lieutenant Pham Van Dan (35 years old), Head of the Criminal Police Department (the Hai Duong Provincial Police), received the Third class Feat Order and certificate of the Director of Hai Duong Provincial Police.

7. Lieutenant To Hong Thai (33 years old) from PH78 Battalion of the fifth Military Region of Vietnam People's Army received certificate of the Provincial People's Committee for his outstanding achievements in the campaign of " Green- Clean – Nice Sunday".

8. Doctor Nguyen Van Hieu (28 years old) from Health Center of Muong Nhe district, Dien Bien province actively joined in social activities although the doctor and his wife have suffered illness.

9. Track & field athlete of Ho Chi Minh City Le Tu Chinh with age of 22 was one of Vietnam's ten outstanding athlete and was honored the title of "The 2016 Outstanding young citizens".

10. Tran Minh Chau (14 years old) from Marie Curie Hanoi School who is an excellent student of the Vietnam National Academy of Music; and she respectively won the first prize at the International Competition Pianotalents Milano, the gold medal at the Asia International Piano Academy and Korean festival, the third prize at International Rosario Marciano in Vienna, Austria and the second prize at the International Piano Competition in Hanoi…
(Source: SGGP)