Petitioning for promptly upgrading the second phase of the Cho Gao canal project
ABO - On October 3, the National Assembly (NA) deputies of Tien Giang province, including Vo Van Binh, Deputy Secretary of the Tien Giang provincial Party Committee, Head of the delegation of the NA of the Tien Giang province and Nguyen Minh Son, Deputy Chairman of Economic Committee of the NA met 120 voters of Binh Phan commune and Binh Phuc Nhut commune, Cho Gao district.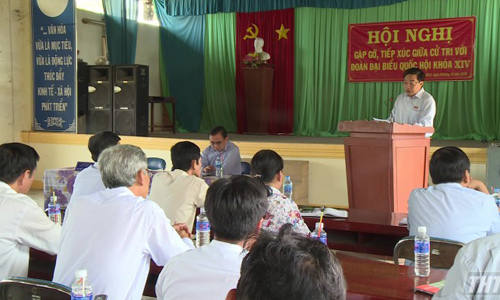 At the meeting. Photo: thtg.vn
After listening to the contents of the program of the sixth session of the 14th National Assembly, voters in Binh Phuc Nhut commune and Binh Phan commune petitioned many issues such as: Supporting Vietnamese Hero Mother; to urgently implement the second phase of the Cho Gao canal project; to partial support expense for people living along the Cho Gao canal to embellish the house to wait for the construction of the project to upgrade the Cho Gao canal phase 2; arranging administrative boundaries; to have adequate policies for some redundant staff after merging.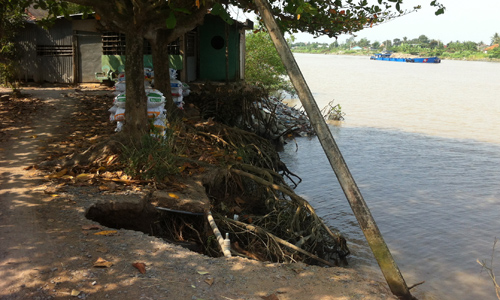 Landslides at the bank of the Cho Gao canal. Photo: HUU CHI
The NA deputies and local leaders answered the voters' proposals, particularly the opinions related to the branches and levels. Especially, many contents related to the agenda of the sixth session of the 14th NA were noted, reflected in the meeting and would be explained to the voters at the following meeting.
(According to thg.vn – Translated by HUU CHI)

.