Tien Giang People's Committee implements the Directive No.16 of the Prime Minister
ABO – On the afternoon of March 31, Chairman of Tien Giang People's Committee Le Van Huong chaired the online conference the Directive 16/CT-TTg 2020 implementation of urgent measures for prevention and control of Covid-19 epidemic in the province.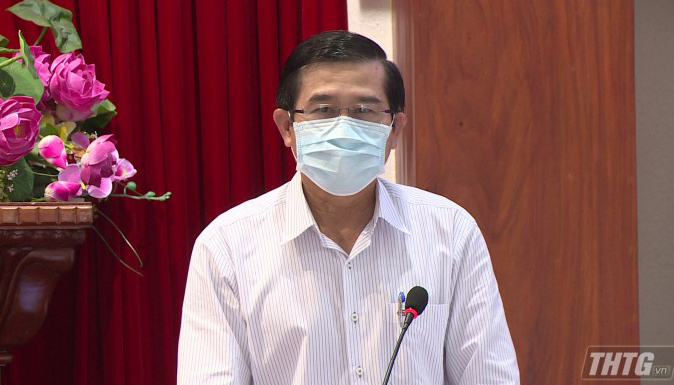 Chairman of Tien Giang People's Committee Le Van Huong speaks at the conference. Photo: thtg.vn
At the conference, the delegates gathered to discuss and come up with solutions to strictly implement the Prime Minister's Directive No. 16. Accordingly, sectors and localities should take urgent measures to prevent and control Covid-19 epidemic with contents such as strictly implementing social isolation within 15 days from 0:00 on April 1, 2020 nationwide; State agencies and units shall arrange cadres, civil servants and public employees to use information technology to work at home. Agencies and public offices only go to office in cases of absolute necessity, etc…
Previously, Tien Giang province has implemented many measures in the prevention of Covid 19 epidemic such as check body temperature in public places, reminding service businesses crowded with people, etc...
According to a report of Tien Giang Department of Health, up to March 31, Tien Giang province continued to control the disease situation well and has not recorded any cases positive for Covid-19.
In addition, the health sector has also directed the implementation of regulations on prevention of cross-contamination in health facilities, suspension of beauty, aesthetic, physiotherapy, rehabilitation, etc.
It is recommended that private polyclinics and clinics be temporarily closed until April 15, 2020; minimizing sick farmers and visitors; guiding and requesting compulsory medical declarations for people who directly take care of patients; at the same time; increasing propaganda, dissemination and guidance for family members to take measures to prevent and control Covid-19 epidemic, etc…
Chairman of the PPC Le Van Huong requested to strictly follow the Prime Minister's Directive No.16, and urgently implement measures to prevent and control Covid-19 epidemic.
To face of the complicated situation of the epidemic situation, the PPC requested Tien Giang Department of Transport to stop the public passenger transport activities and asked the entire population to voluntarily comply with the requirements as well as epidemic prevention measures; actively participating in voluntary medical reporting, fully implementing measures to protect themselves and their families and participate responsibly with the prevention and control activities of Covid-19 epidemic.
(According to thtg.vn – Translated by HUU CHI)
.