President holds working session on handling capital punishment dossiers
ABO/NDO – President Nguyen Xuan Phuc held a working session on September 14 with officials of the Supreme People's Court, the Presidential Office and agencies concerned on the implementation of an inter-sectoral plan on dealing with capital punishment dossiers in line with the law.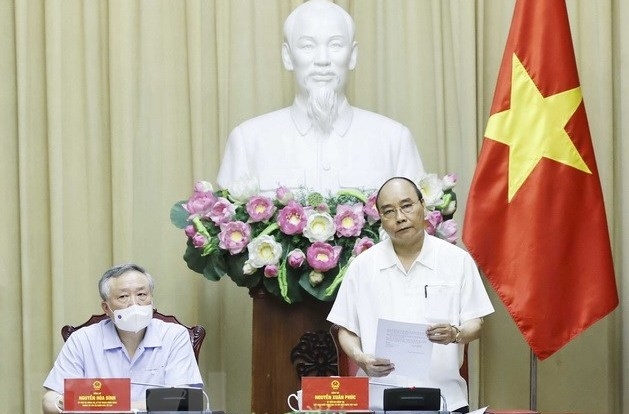 President Nguyen Xuan Phuc speaking at the working session. (Photo: VNA).
It was the second working session in the past more than three months between the President and central judicial agencies on the settlement of capital punishment dossiers and clemency for the death penalty under the authority of the President in accordance with the Constitution and the Criminal Procedure Code.
President Phuc asked the Supreme People's Court, the Supreme People's Procuracy, the Ministry of Public Security and Presidential Office to continue working closely together to carry out the plan. He also required the agencies to closely follow the President's conclusion at the early June meeting on the processing and submission of applications for clemency to the President for consideration, thus ensuring the strictness of law while demonstrating the humanitarian tradition of the nation.
The Presidential Office was assigned to amend the mechanism for coordination with the Supreme People's Court and Supreme People's Procuracy regarding to process and procedures of submitting applications for penalty clemency to the President to ensure transparency, correctness, objectiveness and close supervision.
(Source: NDO)
.