Ceremony marks 65 years since Uncle Ho's visit to Ha Tinh
ABO/NDO – The Ha Tinh provincial authorities held a ceremony on June 11, marking 65 years since President Ho Chi Minh's visit to the province and the 15th anniversary of Ha Tinh city's establishment (2007-2020).
Speaking at the event, Prime Minister Pham Minh Chinh highlighted President Ho Chi Minh's care and attachment to the Party committee, authorities, and people of Ha Tinh province.
The Government leader asked Ha Tinh province to identify its potential and competitive advantages to grasp opportunities to boost its rapid and sustainable development.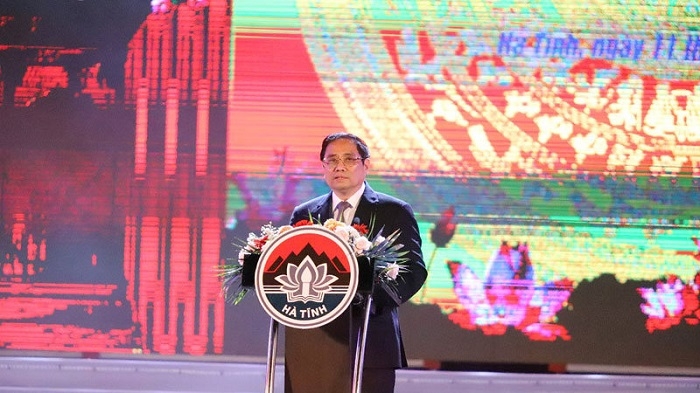 Prime Minister Pham Minh Chinh speaking at the event (Photo: NDO/Ngo Tuan).
The province must further uphold its cultural and historical traditions and mobilise external resources to realise development targets set in the provincial Party Congress's Resolution, he stressed.
Delegates at the ceremony were entertained with songs, dances, and documentaries on the province's effort to follow Uncle Ho's teachings.
Also on June 11, Prime Minister Pham Minh Chinh held a working session with key leaders of Ha Tinh province.
During the session, PM Chinh hailed Ha Tinh's remarkable socio-economic achievements over the previous years and pointed out key tasks to speed up the locality's development in the coming time.
(Source: NDO)
.