President Ho Chi Minh's birthday marked abroad
ABO/NDO- The Committee for Foreign Affairs of Saint Petersburg held a workshop on May 19 to celebrate the 133rd birthday of President Ho Chi Minh (May 19, 1890-2023).
Taking place in both face-to-face and online formats, the seminar attracted the participation of a large number of delegates, representatives of the Vietnamese Association in Russia, Vietnamese scholars and students of the two countries.
Speaking at the workshop, Vice Chairman of the Saint Petersburg Foreign Affairs Committee Vyacheslav Kalganov affirmed, that the event took place in a special context, as the two countries are preparing to celebrate 100 years of President Ho Chi Minh's first visit to Petrograd (now Saint Petersburg).
According to Vietnamese Ambassador to Russia Dang Minh Khoi, President Ho Chi Minh laid the foundation and made efforts to consolidate and promote the friendship between the two peoples of Vietnam and the Soviet Union in the past, and now the Russian Federation.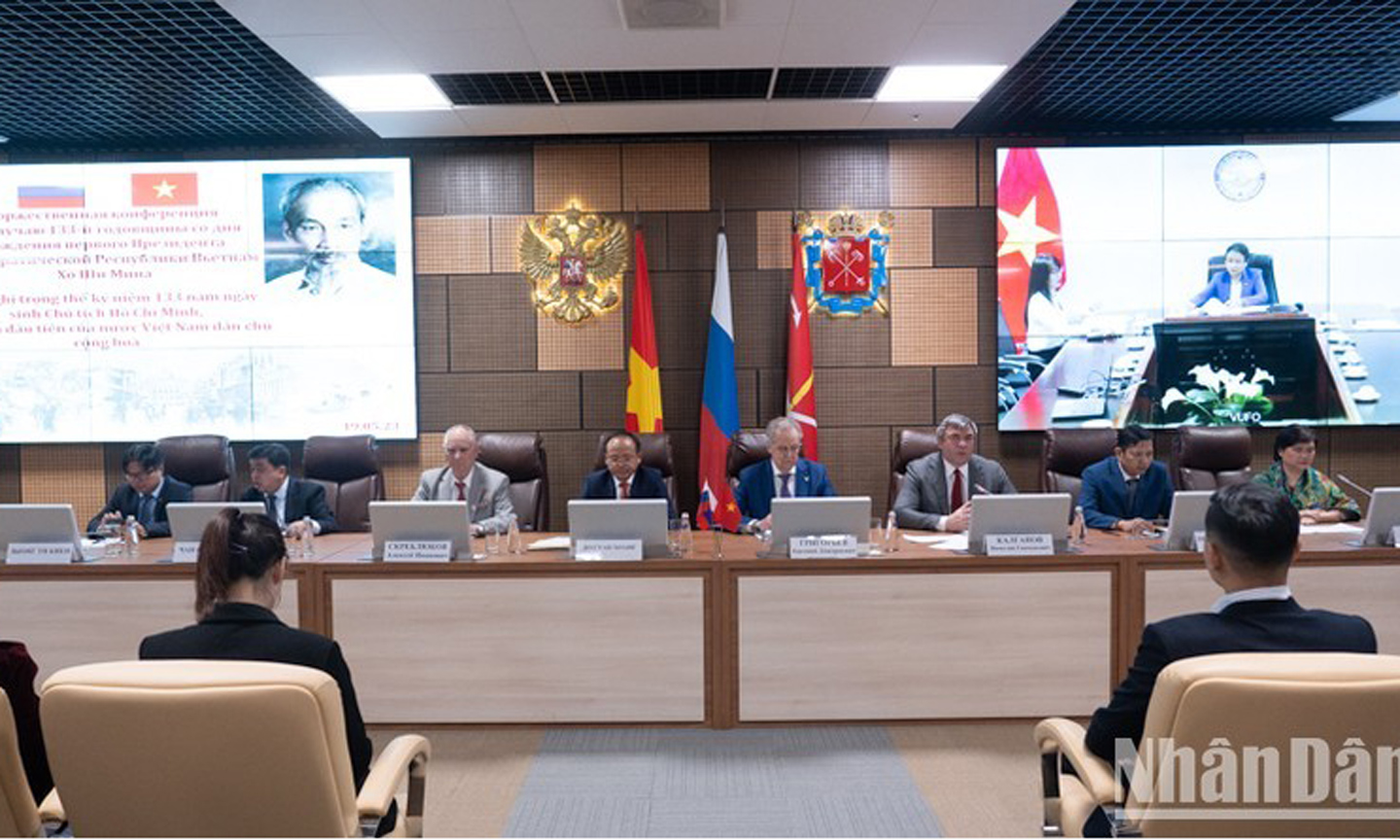 An overview of the workshop.
The people of the two countries are well aware of their responsibility to preserve and strengthen this good and faithful relationship, as well as implement concrete and practical activities to deepen the Vietnam- Russia comprehensive strategic partnership.
Opening on May 15, the workshop was held within the framework of Vietnam Week in Saint Petersburg, with a series of cultural events and business forums, aiming to promote Russia-Vietnam relations.
Also on May 19, the administration of the Thai province of Nakhon Phanom and the Vietnamese-Thai People Association in the province held a ceremony marking the 133rd birth anniversary of late President Ho Chi Minh.
Addressing the event, held at the Thailand - Vietnam Friendship Village in Nong Yat commune of Mueang district, Vietnamese Ambassador to Thailand Phan Chi Thanh, described President Ho Chi Minh as a bright example of patriotism, revolutionary ethics, national solidarity, wisdom, and humanism, adding the late leader was an excellent international soldier and a brilliant activist of the world's national liberation and revolutionary movements.
Thanh said the Thailand - Vietnam Friendship Village and the memorial site of President Ho Chi Minh in Nakhon Phanom, along with other relic sites dedicated to him in some Thai localities, are symbols of the two countries' friendship and cooperation, and will forever be a valuable heritage of both nations.
For his part, Wanchai Janporn, Governor of Nakhon Phanom, said it was his province's honour to be one of the Thai places where the late leader of Vietnam lived and worked in 1928 and 1929, on his path to seek ways for liberating the homeland.
(Source: NDO)
.