Tien Giang marks ASEAN Dengue Day
ABO - On June 13, the Tien Giang Department of Health held a meeting to mark ASEAN Dengue Day in 2018.
It will focus its efforts on the prevention and control of dengue fever by eradicating conditions that enable mosquitoes to breed and killing the insects and destroying their larvae and breeding grounds on a weekly basis.
The campaign would reach out to organisations, businesses and households, and speed up the adoption of measures to prevent and control dengue.
ASEAN Dengue Day is an advocacy event held every 15 June to increase public awareness of dengue, to mobilize resources for its prevention and control, and to demonstrate the region's commitment to tackling the disease.
The advocacy event was agreed upon during the 10th ASEAN Health Ministers Meeting in 2010. The first regional event was held in 2011 in Jakarta, Indonesia, while Myanmar hosted the regional celebration in Yangon in 2012.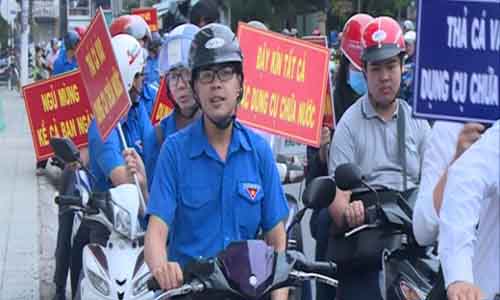 Marching to increase public awareness of dengue fever. Photo: thtg.vn
According to the Tien Giang Preventive Medicine Center, in the first week of June, there were about 440 cases of dengue fever, a year-on-year decrease of 54%. However, before the dengue fever situation is still complicated, preventive measures are still considered as the main measures in the prevention of dengue fever.
After the meeting, representatives of leaders of departments, pupils participated in propaganda and mobilized people to participate in the activities of killing larch, dengue fever prevention.
(According to thtg.vn – Translated by HOANG AN)
.