How to make the government, officials closer to the people, Chairman of the PPC urged
ABO - On the afternoon of October 12, Chairman of the Tien Giang provincial People's Committee (PCC) Le Van Huong and the Deputy Chairman of the PPC met more than 200 people in Tan My Chanh commune, My Tho city.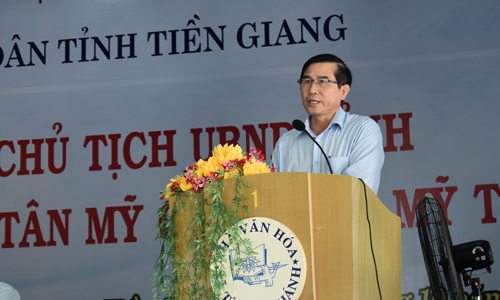 Chairman of the PPC Le Van Huong speaks at the meeting.
The purpose of the meeting aimed at listening to people's comments on the public administration and performance index (PAPI). This meeting further enhanced the responsibility for administration of public administrative services, increasing the level of satisfaction of the people on the operation of apparatus or the government, helping the departments, localities to have a general overview of the public administrative reform and implementation of public administrative procedures.
Most people in the Tan My Chanh commune were satisfied with this leader meeting because it was occasion to express feelings as well as petitions to provincial leaders.
Residents of the Tan My Chanh commune expressed their concerns about how people can inspect and supervise corruption; time for settlement of administrative procedures; where to post up public information and procedures, etc...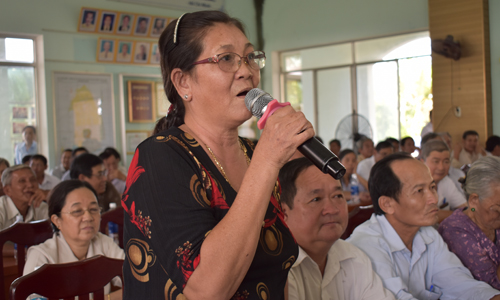 At the meeting. Photo: P.MAI
At the same time, local people suggested urgent issues but the processing time of branches and localities was still slow and the issues of petitions and complaints were not resolved satisfactory by the leaders of concerned branches.
The issues, opinions and recommendations of the people of Tan My Chanh commune were answered thoroughly by leaders of the PPC and Tan My Chanh commune. At the same time, leaders of the PPC directed relevant branches to respond and settle their petitions as soon as possible.
Speaking at the meeting, Chairman of the PPC Le Van Huong affirmed: "This is the first time the provincial leaders meet and dialogue with the people of the commune. In the coming time this will organized regularly. There are not only the provincial leaders but also the district and commune leaders to meet, dialogue with people. How the government system, officials at all levels to be close to the people and listen to the thoughts and aspirations of people, etc ..."
By P.MAI – Translated by NGUYEN HUU
.