Fourth school traffic safety contest launched
ABO/Hanoi (VNA) - The National Committee for Traffic Safety coordinated with the Ministry of Education and Training to launch the fourth school traffic safety contest in Hanoi on January 10.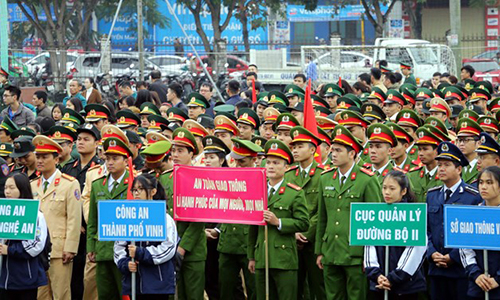 At the launching event (Photo: VNA)
The contest is running from January to May with a view to raising awareness of traffic safety among students.
It includes three rounds of competition: at the school level (from January 7 to March 29); at the provincial and municipal level (from April 15 to 24), and the final national level in May.
The contest is held in the form of multiple choice questions on the internet, targeting junior and senior high school students throughout the country.
There are more than 1,000 questions about road traffic rules, 600 questions about traffic culture, and nearly 200 video situation questions.
Candidates have to answer 30 questions (instead of 35 in previous years) in 15 minutes.
The results of the contest will be announced on the website: http://giaothonghocduong.com.vn.
The organising board will present one special prize worth 10 million VND, two first prizes each worth 5 million VND, three second prizes each worth 3 million VND, and five third prizes each worth 2 million
VND.
The first contest was held in 2014 with the participation of over 200,000 students nationwide.
(Source: VNA)
.