Exhibition to recreate traditional Tet space
ABO/NDO - The National Archives Centre No.1 of the State Records and Archives Department of Vietnam organised an exhibition titled "Tet Xua" (Old Tet) in Hanoi on January 14, aiming to recreate a part of the traditional Vietnamese Tet space through documents and images.
This is the first time that the National Archives Centre No.1 have held many interesting interactive activities of the spring market in parallel with the display of more than 100 documents and unique images about Tet.
The content of the exhibition is divided into three themes: Spring Market, Welcoming Spring, and Spring Travel.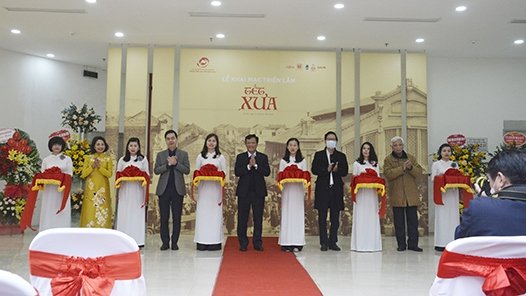 Delegates cut the ribbon to open the exhibition. (Photo: National Archives Centre No.1).
"Welcoming Spring" introduces rituals, customs and practices on the occasion of the Lunar New Year, which always occupy an important position in the spiritual lives of all Vietnamese people.
The exhibition introduces the space "Spring Market". This is an opportunity for everyone to immerse themselves in the joyful, bustling and colourful scene, and to shop for Tet holiday and welcome a decent and complete Tet holiday.
Exhibitions and events will depict a part of the atmosphere of the old Tet with the custom of his father. Although the current customs during Tet have changed a lot, the Lunar New Year still retains its own soul and is still the most important and warmest holiday of the whole nation. Every spring, Tet is a time when tradition is evoked to honour and preserve the inherent beauty of Vietnamese Tet for future generations.
From the documents and images of the exhibition, the organisers hope that the public will rediscover the beauty of the old Tet and at the same time provide a reliable source of historical data for the research, preservation and promotion of traditional Vietnamese culture.
(Source: NDO)
.