Governor General of Australia to visit Vietnam
ABO/VNA – Governor General of Australia Peter Cosgrove and his spouse will pay a State visit to Vietnam from May 23-26 on the occasion of the 45th anniversary of bilateral diplomatic ties.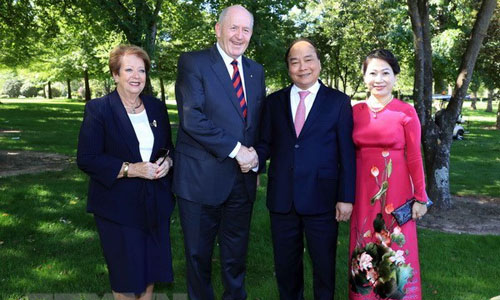 Governor General of Australia Peter Cosgrove (second from left) and Prime Minister Nguyen Xuan Phuc (third from left) in Australia (Source: VNA).
The visit will come at the invitation of President Tran Dai Quang.

Through the decades, Vietnam and Australia have built a strong partnership with the establishment of comprehensive partnership in 2009. They signed a declaration on enhancing bilateral comprehensive partnership in 2015.

Trade and economic partnership is an outstanding example in bilateral ties, with trade revenue increasing 200 times since 1990 to reach 6.46 billion USD in 2017 and expected to hit 10 billion USD in 2020.

Australia currently ranks 19th out of 116 foreign investors in Vietnam with total investment of 1.82 billion USD in 396 projects. The two sides have signed the Comprehensive and Progressive Agreement for Trans-Pacific Partnership (CPTPP) and actively engage in negotiations on the Regional Comprehensive Economic Partnership (RCEP).

Australia has been a regular ODA provider of Vietnam in various fields, including infrastructure, poverty reduction, innovation, climate change response, gender equality and startup support.

In tourism, Australian tourists to Vietnam have increased through years, reaching over 370,400 in 2017, making it one of the 10 leading source markets of Vietnam's tourism.

Australia is the fourth most favourite destination of Vietnamese students with about 30,000 Vietnamese students. Meanwhile, Vietnam is also one of the five popular options for study of Australian students.

Along with economic cooperation, Vietnam and Australia have enjoyed effective affiliation in all fields of politics-diplomacy, security-defence, science-technology and culture-education.
(Source: VNA)
.