Teleworking, videoconferencing … How confinement has changed the situation
The confinement will have had the merit of making us evolve with regard to teleworking. At the end of last year, 7% practiced it, today 30% of employees telework.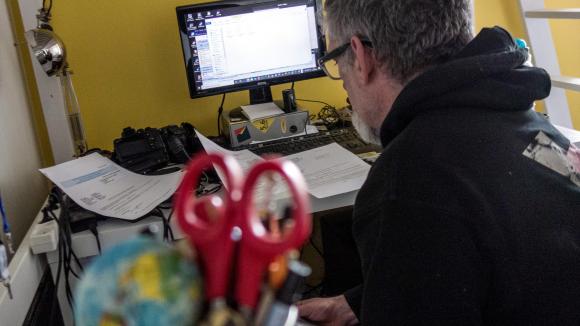 Twitter, Facebook or Google now only talk about teleworking. Has the intensive use of technology since the start of the Covid-19 crisis changed our perception of remote work?
"I think that within 5 to 10 years, 50% of its Facebook employees will be working remotely "Mark Zuckerberg said Thursday, May 20, during an online video intervention. Teleworking, we do not know if it is health, but in any case it is the future, if we are to believe the big bosses of Silicon Valley. Last week, it was the boss of Twitter, Jack Dorsey, who allowed his employees to work permanently remotely while at Google the return to the office is not expected until next year.
According to Mark Zuckerberg, the Covid-19 crisis has had a profound impact and technology is making it possible to develop teleworking on a large scale. Today, thanks to videoconferencing, tomorrow with virtual reality. Behind these great declarations also hide commercial ambitions since these companies themselves offer teleworking tools (Facebook Workplace, Google Drive, Google Meet, Microsoft Teams, etc.) and are engaged in a fierce commercial battle to impose them.
The French have tamed video and discovered teleworking
The fact is that mentalities are changing, including in France. Teleworking is progressing in practice and in people's minds. At the end of 2019, 7% of French people practiced it; they were 30% during confinement. Among those who had never tried before, more than 70% would want to work from home at least one day a week in the future. We see the idea spreading that it is not necessarily essential to go to the office to work and that remote work, which was the exception yesterday, could one day become the rule.
During the confinement, we got to grips with the technologies and in particular the videoconferencing tools. Video which has advantages because it avoids unnecessary and lengthy meetings and allows you to get to the point. But video meetings would also be more tiring because you are focused on speaking and you do not see your interlocutors in full, it lacks the perception of bodily expressions. In addition, you cannot go apart with your colleagues, except by SMS. Speech is less spontaneous. Finally, we focus on the image we want to give of ourselves in front of the camera.
Pivotal period
We have also hijacked professional applications for privacy during this confinement, such as Zoom or Microsoft Teams, in order to share video-aperitifs or sports sessions with friends. In short, we can say that this was a pivotal period in the use of technologies. There will be a before and an after.
What about the future? It will be spatialized sound (to make low masses), real-time translation, cameras integrated into the screens, to be able to look your interlocutors in the eyes, and of course immersive video in virtual reality glasses. For example, Facebook briefly unveiled a virtual reality desktop concept in video: