Goods ready for Tet Lunar Year in 2018
Sunday, 14/01/2018, 07:22 [GMT+7]
In oder to ensure goods for Tet Lunar Year 2018, the Tien Giang provincial People's Committee has issued a reserve plan, supply goods for Tet. In addition, the work of stabilizing the market has been also special interested to set people's mind at rest to enjoy Tet.
* Bussinesses actively prepared
At this point, businesses were busy preparing goods to serve Tet market. In particular, enterprises were priorty distributed and reserved essential items like rice, monosodium glutamate, cooking oil, jam, etc...
Deputy Director of My Tho Co.opmart Nguyen Duy Linh said that in order to serve the consumer demand during the Lunar New Year 2018, the supermarket stocked up the value of about VND70 billion including essential items as rice, sugar, monosodium glutamate, etc ... In 2018, the amount of goods reserved for Tet increased about 5% compared to 2017. By this time, the amount of goods has been transferred to the supermarket about 1/3.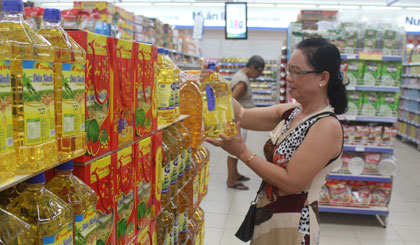 Goods ready for Tet Lunar Year 2018. Photo: MINH THANH
Director of Ward 1 (My Tho city) Trading Services Cooperative Huynh Kim Tuan said that in order to serve the Lunar New Year market this year, the cooperative stocked over VND236 billion including essential items worth more than VND20 billion. At present, the cooperative has stockpiled about 50% of goods for Tet.
In Go Cong area, Director of Go Cong supermarket Coopmart Duong Minh Chau said that supermarket have prepared sources for the Lunar New Year around 1 month ago. In 2018, stockpiles increased by 20% compared to 2017. To stimulate consumption, supermarkets will offer many attractive promotions on this occasion. It is expected that purchasing power this year will increase about 15% compared to last year.
• It is difficult to happen lack of goods, high price
In order to contribute to curbing inflation, stabilizing the commodity market before, during and after the Lunar New Year 2018, the Tien Giang provincial People's Committee has developed a reserve plan to supply essential goods for the Lunar New Year including rice, sugar, cooking oil, sweeteners, meat and poultry.
Accordingly, the amount of goods stored this year includes 680 tons of rice, 188 tons of sugar, 437.966 liters of cooking oil, 271,515 tons of sweeteners and seasonings, 20 tons of cattle and 8.7 tons of poultry meat. In addition, there are other consumer items such as jam, sausage, beverage, detergent, etc ...
This year, six enterprises have stockpiled goods worth over VND 341 billion, of which, essential items are worth over VND39 billion.
Director of the Tien Giang Department of Industry and Trade Ngo Van Tuan said that the implementation of the plan of the Provincial People's Committee asked the commercial banks to support interest rates for businesses to borrow in 4 months to prepare essential goods. In addition, the Department also directed the market management force, inspector intensified inspection of the market to ensure food hygiene and safety as well as price stability.
At the same time, the department also linked to stabilize the market with some neighboring provinces and cities, especially Ho Chi Minh city. If there are scarce items on the New Year, the provinces will increase the source of goods to ensure consumer demand.
By MINH THANH-Translated by NGUYEN HUU