Blue growth crucial to national economy
ABO/VNA – Blue growth, or growth of the sea-based economy in an effective and sustainable manner, is important to Vietnam's economy as the sea plays a crucial role in both economic and security terms for the country.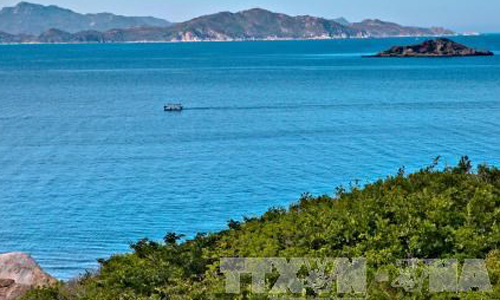 A view of Vinh Hy Bay in Ninh Thuan.
In 2012, the Government approved a National Green Growth plan for the 2011-2020 period with a vision to 2030, and passed a national action plan on eco-friendly growth for the 2014-2020 period in 2014.

However, natural resource exploitation activities have still been prioritised, with the values in terms of services and space of the sea and sea ecosystems yet to receive adequate attention. There has been no breakthrough model to effectively tap the potential of coastal areas and islands.

Although blue economy, which is the sustainable use of ocean resources for economic growth, and a part of green economy, is a current global priority, and has also been stated in Vietnam's 2012 strategy and 2014 plan, the enforcement of relevant policies has faced many difficulties due to slow changes in mindsets and limited resources. As a result, natural resources for maritime economy have not been preserved and continue to see a degradation in quality.

According to Professor Chu Hoi from the University of Natural Sciences under the Hanoi National University, Vietnam's sea is rich in natural resources and located in the East Sea where there is a long history of disputes. Therefore, the sea has an important position in national economic development and security strategy in any era.

Over the past years, the sea-based economy has made important contributions to national economic growth, but the scale of maritime economy has yet to match the potential and value of the sea, he held.

Professor Hoi asserted that in order to optimise sea economy efficiently and sustainably towards industrialisation and modernisation, blue economy and blue growth are a suitable choice.

The national strategy on green growth focuses on strengthening investment towards preserving, developing, and exploiting natural resources effectively, while reducing green house gases and improving the quality of environment, thus promoting economic growth. Cutting down emissions and increasing green house gas absorption are important obligatory criteria of socio-economic growth.

Currently, the national green strategy and action plan is being implemented by ministries and localities nationwide. The two schemes have affirmed the inevitable development trend of the Vietnamese economy in switching to a greener economy, contributing to poverty reduction, natural disaster mitigation, and climate change response.
(Source: VNA)

.