Samsung Vietnam completes construction of new R&D Centre in Hanoi
ABO/NDO – Samsung Vietnam has officially completed the construction of a new R&D Centre in Tay Ho Tay Urban Area in Hanoi on May 14.
The construction of the centre commenced in March 2020and 70% of the workload has been completed. Samsung is expected to complete the entire centre by the end of this year as committed to the Vietnamese Government.
To ensure the progress of the project, Samsung has arranged about 1,300 workers to work at the construction site each day.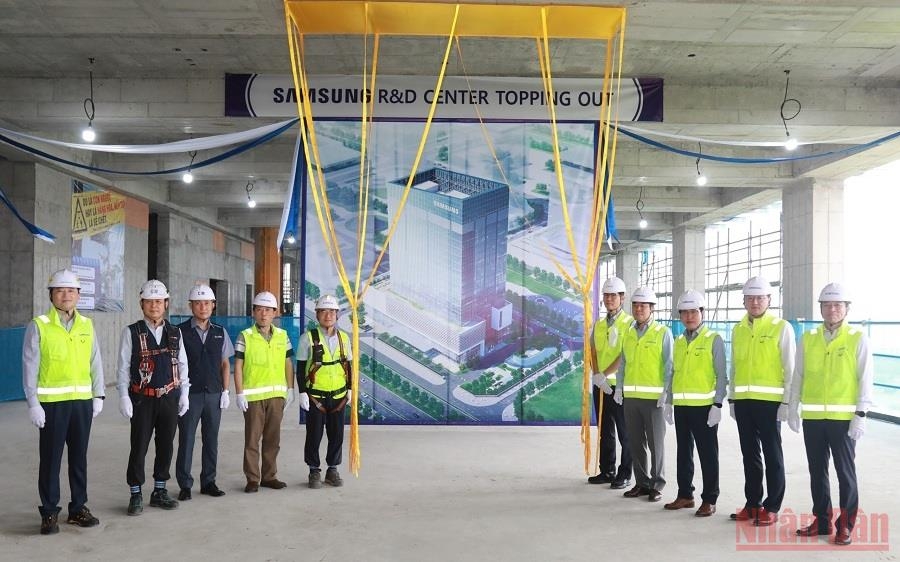 The construction of the centre was commenced in March 2020 and 70% of the workload has been completed. (Photo: NDO).
President of Samsung Vietnam Choi Joo Ho said: "Right after Samsung's new R&D Centre project was started was also the time when the COVID-19 pandemic began to break out with complicated developments in Vietnam,causing certain difficulties to the construction of the project".
"However, with the support of the VietnameseGovernment and Hanoi authorities, the completion of the work has continued on as scheduled. In particular, the new R&D Centre is not only proof to Samsung's long-term investment commitment in Vietnam, but alsodemonstrates Samsung's determination to turn Vietnam into the leading strategic base of Southeast Asia," he added.
The R&D Centre has received a total investment of about 220 million USD, including 16 floors and three basements covering a total area of 11,600m2.
(Source: NDO)
.