Vietnamese bird's nests see opportunities to enter Chinese market
ABO/NDO- Vietnamese bird's nests see great potential for export to Chinese market as people in China and Chinese communities in other countries across the world spend about 5 billion USD on bird's nests and products made from them.
The Ministry of Agriculture and Rural Development and the General Administration of Customs of China signed a protocol on requirements for quarantine, inspection and veterinary hygiene for bird's nests of Vietnam to be exported to China.
The protocol, which took effect in November last year, is said to be a condition for Vietnamese bird's nests to conquer the Chinese market after Malaysia, Indonesia, and Thai.
In Central Highland provinces, swiftlet farms have registered for production area codes and completing documents in line with the protocol. Authorities also support enterprises in registering for exporting bird's nests to China.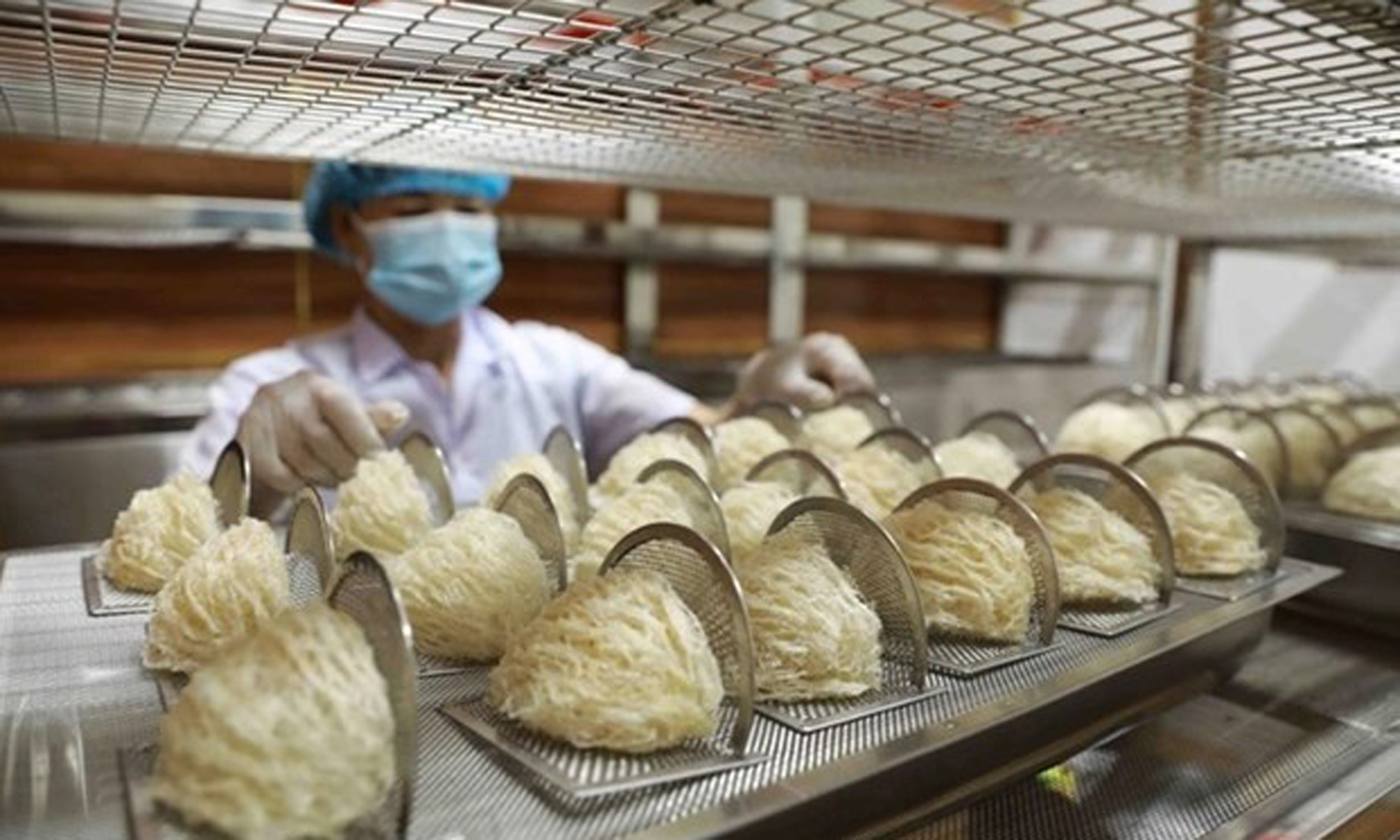 Illustrative photo (Photo: baodautu.vn).
Nguyen Dung, Vice President of the Vietnam Farms and Agricultural Enterprises Association, said that China opening door to Vietnamese bird's nests via official channels brings opportunities to the local bird's nest industry.
Exports to China and countries with big Chinese communities like the US, Australia, and New Zealand is a way to increase the value of the product.
Currently, bird's nests are considered one of the most expensive foods in the world.
He said that to prosper in the business, swiftlet farmers need to connect with cooperatives and companies to obtain international certifications, which will help their products to be sold for good prices.
Individuals and units in the bird's nest industry should also diversify products to better reach potential consumers.
According to the Vietnam association of swiftlet farms, almost all the farms in Vietnam harvest and process the nests by themselves and then sell in a small scale. As a result, although Vietnam has nests brands, their quality fails to meet international standards.
Currently, Vietnam mostly exports raw bird's nests with low value through unofficial channels.
According to the Ministry of Agriculture and Rural Development, there were about 23,600 swiftlet farms in 42 out of 63 localities across the country.
The country sees a production of about 200 tonnes of bird's nests and exports over 120 tonnes worth 450 million USD each year.
Tran Phuong Tuan, director of Vietnam Bird's Nests Company (VinBirdnest) said that the protocol relating to the export of Vietnamese bird's nests to China brings opportunities for the industry as China is the world's largest market for bird's nests.
When the market is activated, the bird's nest industry of Vietnam will be restructured, creating higher added value, helping to improve the income and profits for bird nest farmers and processors.
According to the latest report from the Macro-economic Research Institute of the Lao Academy of Social and Economic Sciences (LASES), the economic growth will be driven by the services sector in association with the growth of the tourism and processing industries and agricultural production for export.
The agricultural sector is set to see an increase of 3.5% this year following an injection of funds for boosting productivity. Meanwhile, the industrial sector is hoped to see an increase of 4.6% from export related to processing industries in special economic zones.
The construction sector is also set to see growth, although financial hardships faced by the government and reducing capital inflows may affect its growth.
According to Vice President of the LASES, Dr Kikeo Chanthaboury, the launch of the cross border Laos-China railway has contributed to significantly bolstering regional trade and people-to-people exchanges.
Dr Kikeo said the Laos-China railway provides an opportunity to Laos to boost its export, tourism and logistics sectors.
However, there are also pressing challenges facing Laos, such as soaring inflation, high public debt, depreciation of the currency and Lao workers seeking better pay abroad. These challenges are made worse by the problem with regulating the local currency, which directly impacts the cost of goods.
Despite these challenges, the reopening of China's market with 1.3 billion consumers is beneficial to Laos. This year alone, more than 3 million tonnes of agricultural products were exported to China, Thailand and Vietnam.
(Source: NDO)
.