Administrative reform contributes to attracting investment
ABO/NDO- Quang Ninh Province was estimated to attract about 5 billion USD in the first ten months of 2023, including 3.1 billion USD of foreign direct investment (FDI) capital. The impressive result was mainly attributed to the promotion of administrative reform to create an attractive investment environment.
The province always focuses on reforming administrative procedures to improve the quality of the business and investment environment, ensure healthy and equal competitiveness, and boost transparency. In particular, the province pays special attention to shortening handling time, simplifying dossier components, and standardising administrative procedures directly related to investment and business activities.
In 2019, Foxconn Group officially launched its first investment project in Quang Ninh with the S-Vietnam factory worth 137 million USD, producing liquid crystal display modules and electronic circuit boards in Dong Mai Industrial Park, Quang Yen Town. Foxconn continued to invest in two more projects in Quang Ninh in June 2023, raising the total number of its projects in the province to three, with a total registered capital of more than 383 million USD, accounting for about one-tenth of Foxconn Group's investment scale in Vietnam.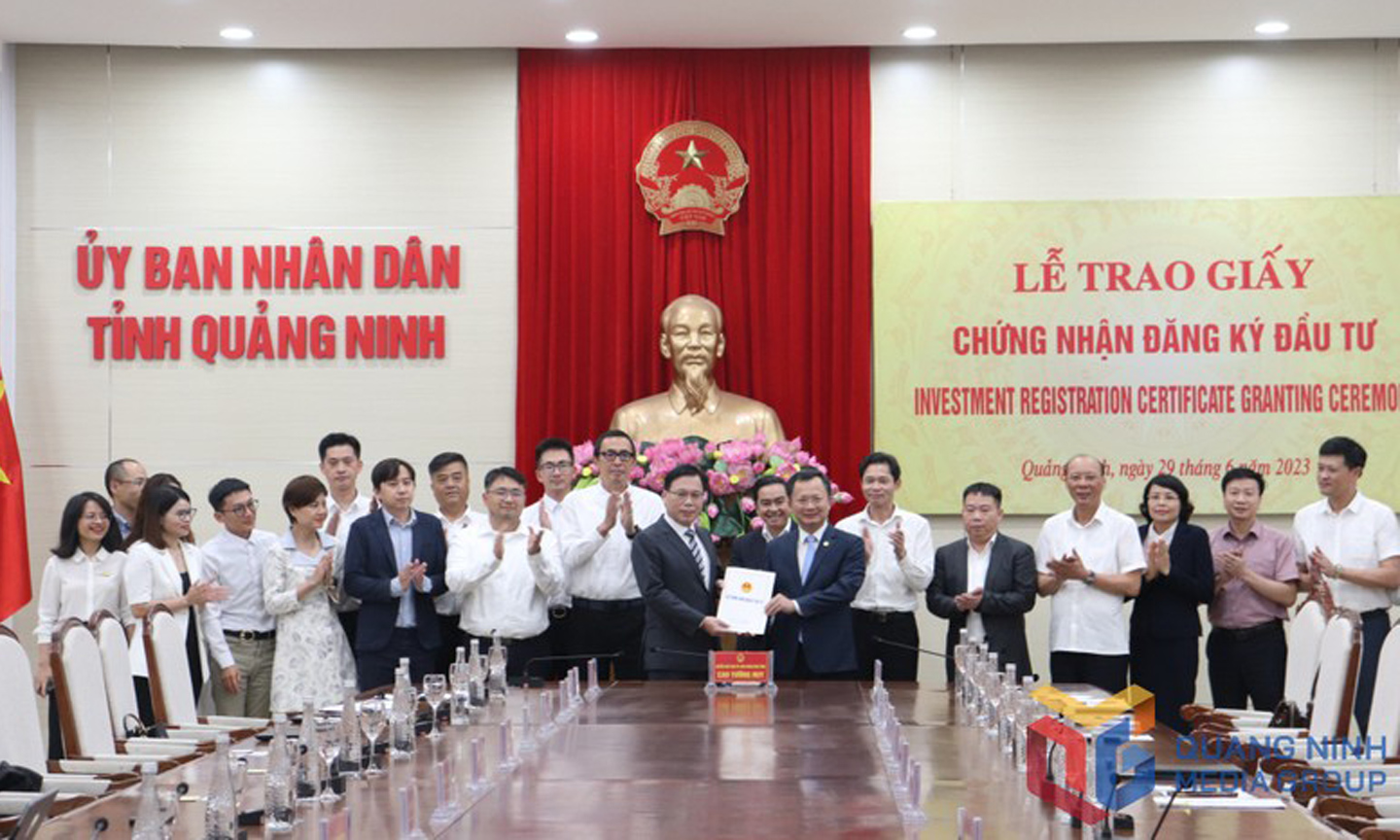 Quang Ninh grants investment certificate to Foxconn within 12 working hours after the company submitted online applications through the province's Public Service Portal in June 2023.
Notably, Foxconn's two new projects in Quang Ninh were granted investment certificates within just 12 working hours after the company submitted online applications through the province's Public Service Portal, shortening the 14 working days.
Head of the Provincial Economic Zone Management Board Hoang Trung Kien said, that as one of the investors with great experience and high potential, the implementation of the two projects has been carried out very professionally by Foxconn Group. While preparing investment registration documents, the Provincial Economic Zone Management Board and relevant departments and localities also accompanied and supported the investor. After the documents were completed, the issuance of investment certificates for two projects was conducted quickly, creating an impression and confidence for Foxconn and other businesses and investors who have chosen and will choose Quang Ninh to invest in.
Deputy General Director of Foxconn Vietnam Chau Nghia Van said after 16 years of development and investment in Vietnam, Foxconn selected Quang Ninh to deploy its important projects. The group carefully calculated its decision based on Quang Ninh's natural and socio-economic conditions, as well as its management capacity, especially since it has led the Provincial Competitiveness Index (PCI) for six consecutive years.
Foxconn also appreciates the province's spirit of service and work efficiency when completing the investment license approval within just 12 hours. This result will continue to prove that Quang Ninh has been and will be a safe, reliable and attractive destination for investors, Van noted.
Quang Ninh also continues to receive the trust of Jinko Solar, the world's largest and most advanced solar panel manufacturing group, as the group invested in an additional project at Hai Ha Seaport Industrial Park, raising the total investment capital in Quang Ninh to over 2.5 billion USD for three projects. The expansion of operations and investment of enterprises in Quang Ninh demonstrates the effectiveness of administrative reform and the building of a healthy and transparent investment environment in the province.
Thanks to active reforms, the time to handle administrative procedures in the province is currently cut by 40-60% compared to regulations issued by the State. In particular, several procedures related to investment attraction activities, such as the approval of investment policy and the approval of investment location, have been cut by over 70% in terms of handling time, contributing to saving time and costs for businesses and people.
Currently, 100% of eligible administrative procedures at the provincial level (equivalent to 1,367 procedures) have been available online.
The settlement of administrative procedures, according to the 5-step process via the electronic platform associated with the application of digital signatures in all steps, not only helps reduce costs and transaction time but also creates transparency and prevents harassment and bureaucracy.
(Source: NDO)
.