Ngo Son Dinh athlete wins gold medal at the 2018 summer youth Olympics
ABO - According to the Tien Giang Sports and Exercise Center, Ngo Son Dinh athlete won the gold medal at the summer Olympic in Buenos Aires, Argentina.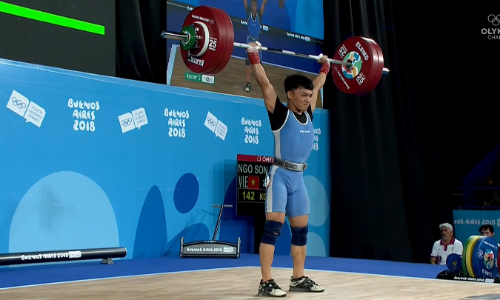 Ngo Son Dinh athlete. Photo: VnExpress
Ngo Son Dinh athlete competed in the 56 kg class and achieved 114 kg, 148 kg and 262 kg for weightlifting general. It can be said that this is a new milestone for Ngo Son Dinh athlete in particular and Tien Giang's sport in general.
Chomchuen athlete of Thailand ranked the second with silver medal, Pole athlete of Czech won bronze medal.

The 2018 summer youth Olympics in Buenos Aires, Argentina gatherd 14-18 year old athletes from more than 200 countries and territories around the world. There are 13 athletes competed in 7 sports: Badminton, Gymnastics, Taekwondo, Dancesport, Weightlifting, Swimming and Athletics.
By PHAN THANG – Translated by HUU TAM

.