Traditional Tet rituals re-enacted at Thang Long relic site
ABO/VNA – Traditional rituals for the Lunar New Year (Tet) were re-enacted at the Thang Long royal citadel relic site in Hanoi on January 26, giving participants a glimpse at the Tet celebrations of the royals in the past.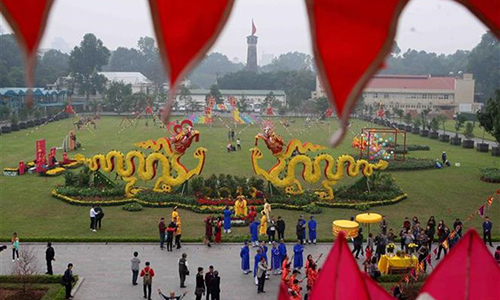 At the Thang Long royal citadel relic site (Photo: VNA)
The rituals started with the farewell ceremony for Ong Cong – Ong Tao (the Land Genie and the Kitchen Gods), who were said to go to Heaven to deliver an annual report on the household's activities to the God of Heaven, along with the release of carps for the genies to ride on their trip.
An incense offering rite was conducted at the Kinh Thien (Respect for Heaven) Palace, and a Neu pole was erected at the Doan Mon yard.
The re-enactment of Tet rituals marked the start of a range of activities at the relic site, designed to give visitors a chance to enjoy the old Tet atmosphere with unique Spring customs of the nation.
A display space dedicated to Tet has been opened at the site, along with Tet markets, folk games, calligraphy and water puppetry performances.
The relic site will close on the last two days of the old lunar year and the first day of the Year of the Pig, which fall on January 26, 27 and 28.
(Source: VNA)
.