Nhan Dan receives congratulations on Vietnam Press Day
ABO/NDO - Various organisations have extended their congratulations to Nhan Dan Newspaper over the past few days on the occasion of the upcoming Vietnam Revolutionary Press Day (June 21).
On the afternoon of June 14, President of the Vietnam Union of Friendship Organisations (VUFO) Nguyen Phuong Nga visited the newspaper and sent her best wishes to its staff, while thanking Nhan Dan for its coverage of the union's activities.
Delighted at the newspaper's drastic changes recently, she expressed her confidence that under the leadership of Editor-in-Chief Le Quoc Minh, Nhan Dan will continue to grow strongly in the future.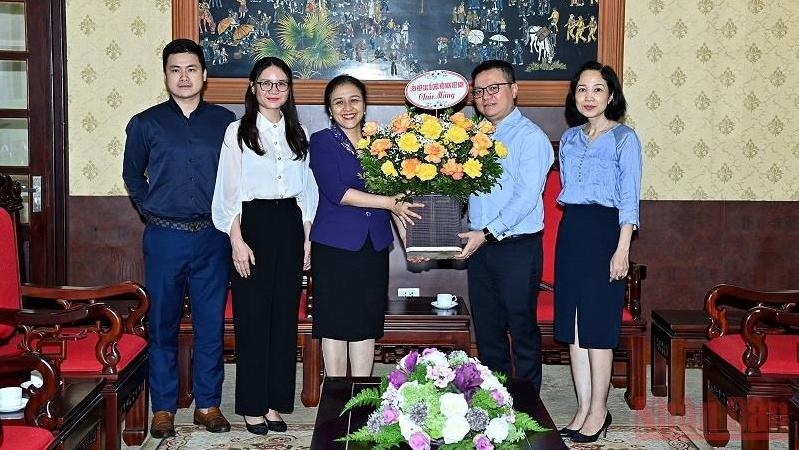 VUFO President Nguyen Phuong Nga extends her congratulations to Nhan Dan Newspaper on Vietnam Revolutionary Press Day. (Photo: Dang Khoa).
For his part, Minh thanked the VUFO leader for her congratulations and affirmed that the newspaper will always support the VUFO and work closely with it to disseminate official information about the Party and State to the domestic public and international friends.
At the meeting, the two sides also shared experiences in the external information service in the current situation as well as discussed the direction of bilateral cooperation for the future.
On the morning of June 15, Nhan Dan also received congratulations from the delegations of the Air Defence-Air Force Command, the Vietnam Social Security and the Hanoi Traffic Police Department.
(Source: NDO)
.