Me Linh district of Hanoi recognised as new-style rural area
ABO/NDO – Hanoi's Me Linh district has been recognised as a new-style rural area, according to a decision signed by the Prime Minister on June 8.
Under the decision, the Prime Minister directed the People's Committee of Me Linh district to complete the criteria of a new-style rural area, especially those on production and environment to ensure sustainable development.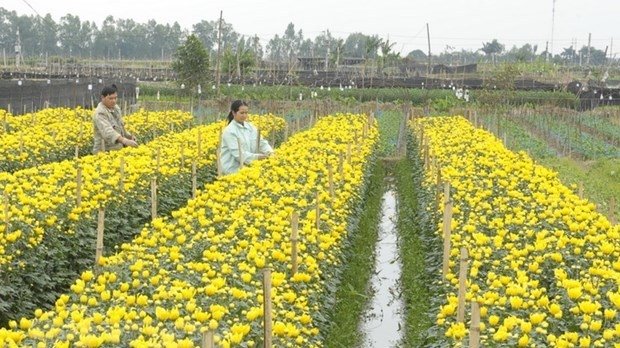 At a flower-growing village in Me Linh district. (Photo: VNA)
Me Linh is a district located at the northern gateway of Hanoi city. After more than 10 years of implementing the new-style rural area building programme, all 16 communes in this district have met every criterion set by the programme.
The local authorities have allocated more than 4.01 trillion VND to improve and upgrade infrastructure in rural areas, contributing to facilitating the areas' socio-economic development.
Priority has also been given to boosting agricultural development and high-technology production to increase product value and improve income for the local people.
(Source: NDO)
.