ECO-SUS art exhibition held in Quy Nhon
ABO/NDO – An art exhibition entitled ECO-SUS, introducing various forms of contemporary art and fine art, was organised by the International Centre for Interdisciplinary Science and Education (ICISE) Quy Nhon in Quy Nhon City, Binh Dinh Province, on April 8.
ECO-SUS is a modern art project of 12 domestic and foreign artists: Pham Thai Binh, Cotizas Del Valle, Vu Xuan Dong, Tri Minh, Trinh Minh Tien, Nguyen The Son, Vuong Van Thao, Le Dang Ninh, Pham Khac Quang, Phan Quang, Nguyen Tran Uu Dam and Vu Kim Thu, who are working in the fields of contemporary art and painting in Vietnam.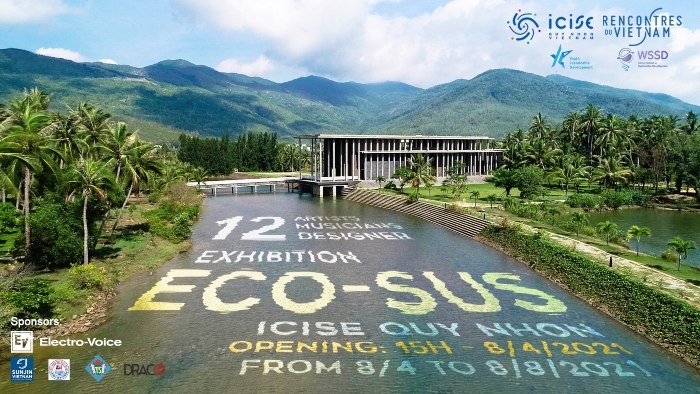 ECO-SUS Art exhibition in Quy Nhon. (Photo: hanoigrapevine.com).
The project is a combination of artists and the ICISE Quy Nhon, which has welcomed 15 Nobel Prize-winning scientists and many famous scientists won other prestige awards.
The series of enthusiastic works of the 12 artists on display at the precinct of ICISE Quy Nhon provide viewers with different emotions than the "traditional" exhibition venues. Those who attend the exhibition have the opportunity to experience many different levels of emotion through watercolour paintings, iron welding installations, engraved installations, shaping works and modern art works calling for the protection of the marine environment.
The exhibition is considered as a "prelude" to the contemporary trend in Quy Nhon, Binh Dinh.
Notably, a special seminar with famous artist Nguyen Tran Uu Dam will be held on April 9.
The exhibition will last until August 8, 2021.
(Source: NDO)
.