Exhibition introduces 100 works of painter Linh Chi
ABO/NDO – An exhibition was opened at the Vietnam National Fine Arts Museum in Hanoi on the afternoon of May 1 to feature 100 paintings from the career of artist Linh Chi.
Artist Linh Chi's real name is Nguyen Tai Luong, born in 1921 in Vinh Yen (Vinh Phuc Province). With the knowledge of painting accumulated through lectures from many famous teachers in high school, he often carried the easel to many rural and mountainous areas of Hoa Binh, Lang Son and Tuyen Quang.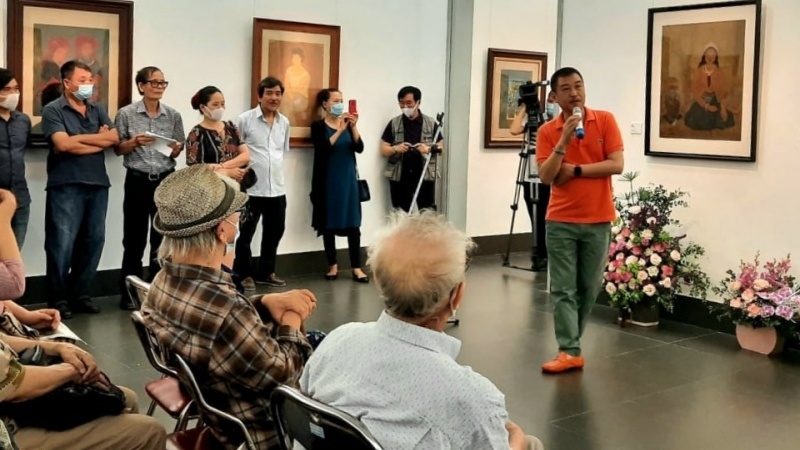 Artist Le Thiet Cuong introduces paintings by artist Linh Chi at the opening of the exhibition. (Photo: NDO/Giang Nam).
From 1951 to 1953, during the nation's resistant war, painter Linh Chi attended a course led by famous painter To Ngoc Van. While immersing in the arduous life of the army and people in the long war, Linh Chi became a painter with his own personality, leaving many imprints in the hearts of the art-loving public.
At the end of the course, he was assigned to work for the national printer, then moved to work at the Xunhasaba book import and export agency. Amidst the busy work, the artist continued to compose and created many good works.
The humanistic value in Linh Chi's paintings is the harmonious combination between the behavioural attitude to reality and artistic ideals. His paintings are always closest to people, what people see and can feel. People love his paintings not only because of the poetic scenery, but also the harmony of shapes and colours that increase the aesthetic pleasure of viewers.
He also devoted many works on the topic of mountainous ethnic groups, with special feelings about the lives of people of different ethnic groups.
Many of his paintings are being displayed at the Vietnam National Fine Arts Museum and in many private collections in France, Italy, the Netherlands, Switzerland, Sweden and Japan.
During his career, artist Linh Chi held many exhibitions to introduce his artworks.
He passed away on March 1, 2016, at the age of 96. This year also marks his 100th birthday.
(Source: NDO)
.