Winners of 2022 Ho Chi Minh Award, State Award for Literature and Arts honoured
ABO/NDO- President Vo Van Thuong attended an awards ceremony held in Hanoi on May 19 to honour winners of the 2022 Ho Chi Minh Awards and State Awards for Literature and Arts.
The State leader presented the Ho Chi Minh Awards to 16 authors and co-authors; while Vice Chairman of the National Assembly Tran Thanh Man, President of the Vietnam Fatherland Front Central Committee Do Van Chien, and Minister of Culture, Sports and Tourism Nguyen Van Hung, granted the State Awards to 112 authors and co-authors.
Speaking at the ceremony, the State leader spoke highly of the role of cultural activists and creators, and artists, in preserving and developing Vietnam's culture.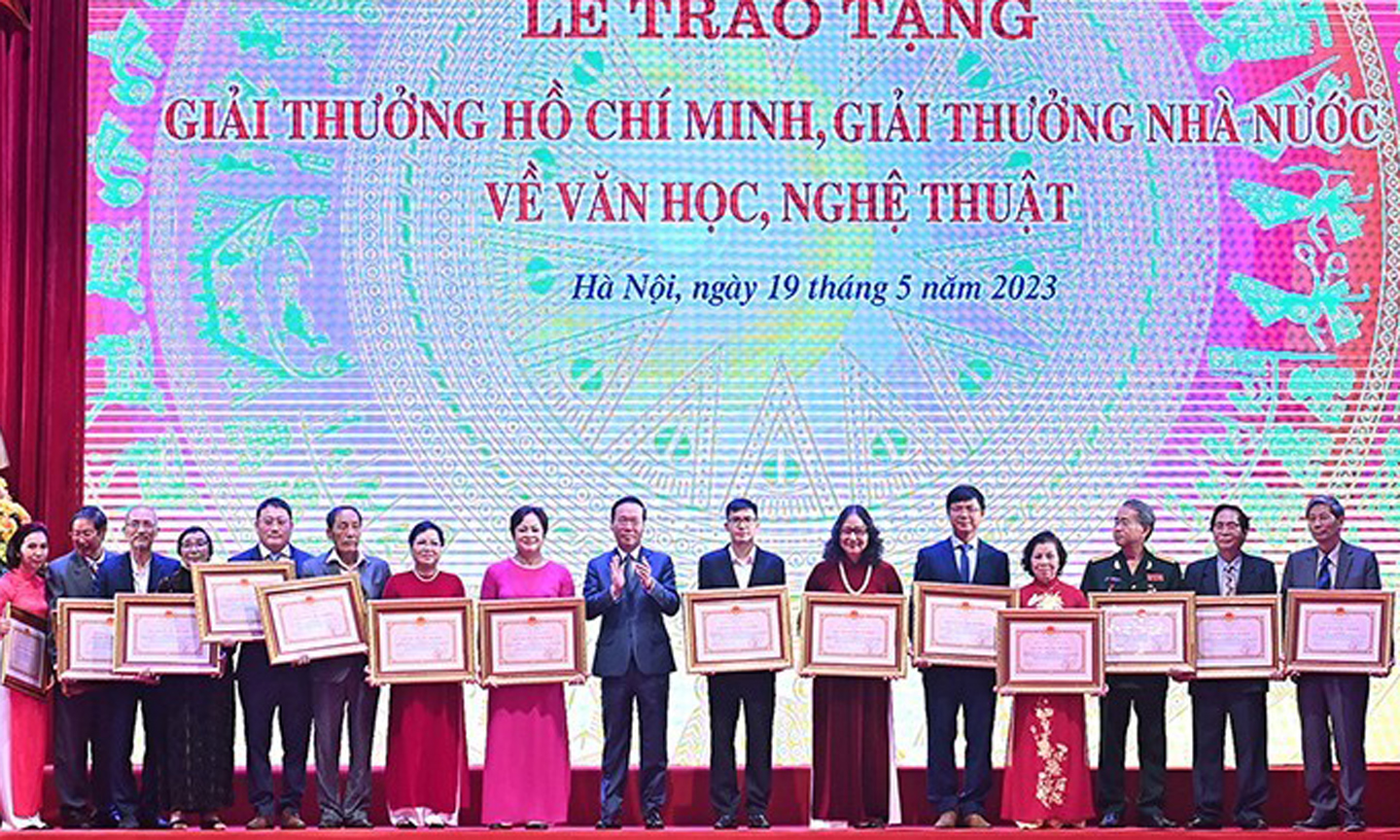 President Vo Van Thuong presents the Ho Chi Minh Awards to 16 authors and co-authors.
He affirmed that Vietnam is taking a steady step forward to a new stage of development, which requires the strong promotion of the strength of Vietnamese people and culture - a driving force and important internal resource for sustainable development.
Facing the current challenges, the country needs more works of high ideological and artistic value which reflect the vivid reality of the social life, achievements of the Doi Moi (Renewal) process, in all fields, the beauty of the Vietnamese people, and the great aspirations of the whole nation, stressed Thuong.
President Thuong also asked ministries, agencies, sectors, and localities to continue to be deeply aware of the role of culture, literature, art and artists in the development of literature and arts, and in building the Vietnamese culture; promptly honour and praise artists with great achievements and contributions to the country; and attach importance to establishing a democratic environment for artists to create their works, as well as taking care of their lives.
He also underscored the need to research and build effective mechanisms to publicise excellent works at home and abroad.
(Source: NDO)
.