Experts: Digital technology crucial for SMEs to go global

ABO/VNA – An international expert on ASEAN trade has underlined the importance of application of digital technology to help Vietnamese small- and medium-sized enterprises (SMEs) and startups join global value chain.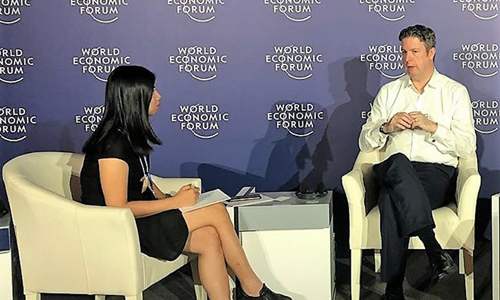 Toby Edwards, CEO of UAE-based Shipa Freight, in an interview with VNA reporter on the sideline of WEF on ASEAN (Photo: VNA)
"Digital markets build a window to a market of more than 600 million people and beyond for Vietnamese SMEs and startups," said Toby Edwards, CEO of UAE-based Shipa Freight - a digital logistics platform, which has a strong presence in ASEAN and Vietnam.

Vietnamese youths show strong entrepreneurial aspirations, as revealed in a recent survey launched by the World Economic Forum (WEF). The survey shows one in four of 11,000 Vietnamese respondents said they want to start their own businesses.

"Vietnamese youths have skills and good ideas, giving them good opportunities to build businesses and take advantage of a large domestic market. However, it is always a challenge to move things from country to country, region to region because of differences in systems and processes," Edwards told Vietnam News Agency.

He cited a recent survey of 800 SMEs conducted by Shipa Freight in eight countries, saying that, 94 percent said they had difficulty in shipping their goods internationally.

It is clear that online platforms are giving tremendous global access for small- and medium-sized enterprises to consumers and markets, not only in thousands, but in millions. The next question is how you can make sure your products move easily. There are challenges, but technology can help," he said.

He also mentioned the opportunities and challenges in the era of new technologies, the Fourth Industrial Revolution, suggesting the Government and citizens embrace the revolution because it is happening across the world.

Edwards, who attended the recent World Economic Forum on ASEAN (WEF on ASEAN) 2018 in Hanoi, cited Vietnamese Minister of Trade and Industry Tran Tuan Anh at the forum as saying that Vietnam aims to develop digital market and e-commerce to ensure open environment for all individuals to take part in the trend.

Edwards stressed the role of the Government in encouraging education and digital access.

"The more simple procedure it is, the more companies are going to be set up. More be set up, some of them are going to be successful. When they are successful, they hire more people, grow faster, and they help local economy," he said.

The WEF's survey, jointly conducted by SEA - one of Southeast Asia's leading internet companies, also revealed that across ASEAN, youths spend an average of six hours and four minutes online every day.

The youth of Vietnam spend the least time online – an average of five hours and 10 minutes, while those of Thailand spend the most time online – an average of seven hours and six minutes, according to the survey.

"It will be important to continue to enhance SME adoption of digital technologies to ensure young entrepreneurs and small businesses have the resources they need to succeed amid international integration and competition," said Santitarn Sathirathai, Group Chief Economist at Sea.

Vietnam's e-commerce sector is growing at 35 percent a year and predicted to be worth 10 billion USD by 2020.

Currently, internet users only make up 55 percent of Vietnam's population.
(Source: VNA)
.