Vietnam wins "best smart nation concept" award at global smart cities contest
ABO/NDO – Vietnam's Advanced International JSC (AIC Group) beat hundreds of international models and projects on smart cities to claim the "World's Best Smart Nation Concept and Model" award at the Global Smart Cities Contest - London 2018.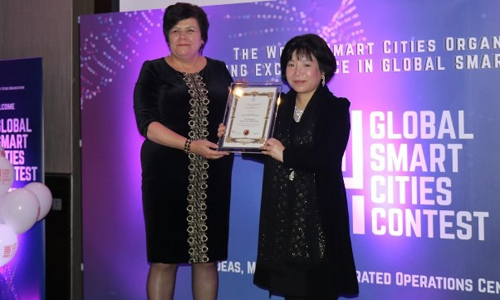 Chairperson and CEO of AIC Group, Dr. Nguyen Thi Thanh Nhan (R), receives the "World's Best Smart Nation Concept and Model" award from the Global Smart Cities Contest at a ceremony in London on October 1. (Photo courtesy to AIC Group)
Nguyen Thi Thanh Nhan, AIC Group's Chairperson of the Board of Directors cum General Director, received the award in London on October 1. The competition was organised by the World's Smart City Organisation, in collaboration with the Normandy French Tech and the Institute of Control Sciences under the Russian Academy of Sciences.

This is good news for the Vietnamese tech community and a source of pride for Vietnamese people around the world, as it is the first time a prestigious award has been given by the international community to Vietnamese individuals and businesses in the field of smart nation within a global scale contest.

The World's Smart City gathers leading experts on intelligent cities and cheers on ideas and models for smart city and nation development.

According to the organisers, despite efforts to find out a comprehensive and feasible model to play as a reference for cities and countries to follow, there are almost no single-solutions in the world today on smart city and nation development, with each focusing on only one or several areas, such as traffic, energy management or healthcare.

The solution designed by Nguyen Thi Thanh Nhan and developed together with her staff at AIC Group was highly recognised by the organisers for showing the synchronous connection scale from central agencies to the relevant units in ministries and cities, and even to the grassroots level, such as schools, hospitals and businesses.

The model also features a wide range of intelligent applications developed using Big Data, real-time information, artificial intelligence and predictive analytics, creating an integrated system of multi-level coordination centres to realise multi-dimensional model and bring inclusive benefits to more than 20 beneficiary groups.

The jury also took comments from reputable research institutes, as well as experts and representatives from leading technology groups on the model. All comments highly praised it for consistency, intelligence and feasibility.
(Source: NDO)
.