The NA deputies of the Tien Giang province meet voters:
Voters pay attention to many issues of welfare of the people
ABO - On October 5, the National Assembly (NA) deputies of the Tien Giang province including Nguyen Thanh Hai, Le Quang Tri met voters in Thanh Hoa commune (Cai Lay town) and Hoi Xuan commune (Cai Lay district).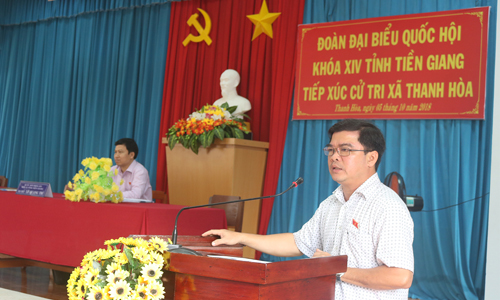 Deputy Nguyen Thanh Hai speaks at the meeting.
At the meeting, the voters contributed some ideas such as the NA should discuss solutions to promote the prevention and combat of corruption, especially the recovery of property corruption.

The work of forest protection and prevention activities recently have been limited, the NA needed to review this work.

The Highway 1A section through some communes has many downgraded points, causing danger to people in the traffic. Authorities should study the output for agricultural products to avoid devaluation and commodity congestion, etc…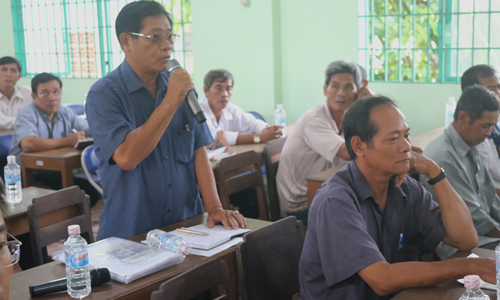 Voter petitioned for concerned issues. Photo: PHAN THANG
On issues of security and order, voters now suggested that the situation of theft of agricultural products in rural areas is complicated as many cases carried dangerous weapons; the situation of drug crime in rural areas was increasing, etc…
Responding to the opinions of the voters, deputy Nguyen Thanh Hai said that the Party, the State and authorities at all levels and sectors have drastically implemented; there is no restricted area and has made fundamental changes to prevention combat and handling of corruption crimes.
About the situation of drug crime is increasing, the delegation will note and send the opinions of the voters to the NA to discuss solutions and sanctions stronger than the lowest level of vilification.
As the textbook changes constantly caused great waste, the NA has questioned many times with the Ministry of Education and Training. About the repair and upgrading of narrow bridges on National Highway 1A, on the last time, the road was granted expenditure to expand 5/7 narrow bridges, etc...
By PHAN THANG – Translated by HUU CHI

.