VCCI announces code of business ethics for Vietnamese enterprises
ABO/NDO – The Vietnamese Code of Business Ethics consists of six principles, which are the basic ethical qualities that are required and should be widely practiced in the Vietnamese business community, according to President of the Vietnam Federation of Trade and Industry (VCCI) Pham Tan Cong.
Cong made the remarks at a ceremony to announce the code of business ethics held in Hanoi on May 19 on the occasion of the 132nd birth anniversary of President Ho Chi Minh.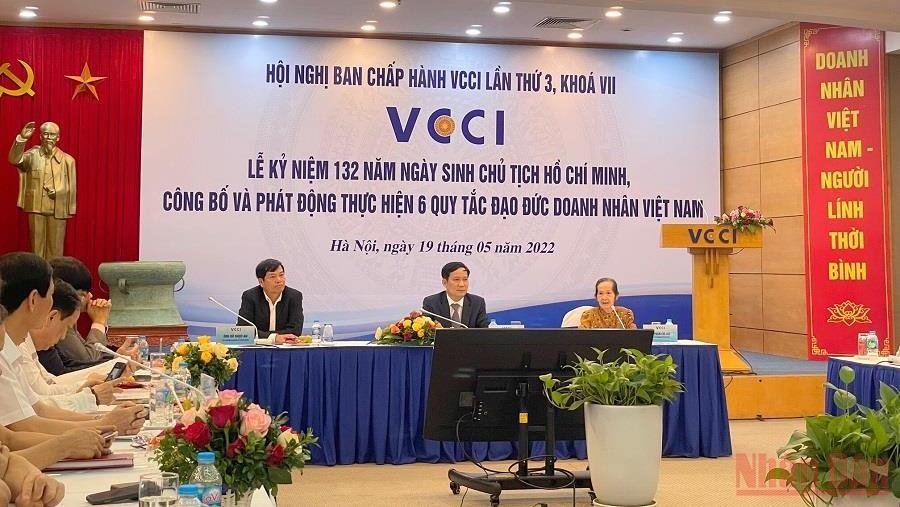 At the ceremony to announce code of business ethics for Vietnamese enterprises (Photo: NDO).
The code of ethics was completed based on the business ethics rules of organisations and businesses around the world as well as domestic information sources such as the set of business culture criteria developed by the Vietnam Association for the Business Cultural Development.
The set of business ethics includes six key principles such as creating economic value for society; compliance with the law; transparency, fairness, and integrity; creativity, cooperation, and mutual development; respect for nature and environmental protection; being patriotic and responsible to both society and the family.
The first two rules are ethical principles and also fundamental obligations of enterprises to ensure their legitimacy and existence.
The next two rules are standards in doing business, in operating a business and interacting with domestic and international partners. The last two rules are the qualities required for dealing with nature, the environment, the nation, the society and the family.
The VCCI will take the practice of the code of business ethics as a prerequisite in reviewing, voting and awarding the annual Outstanding Vietnamese Entrepreneur Award.
(Source: NDO)
.