Tien Giang province:
To implement the application of 4.0 technology in rice production from the autumn-winter rice
ABO - Starting from the 2018 autumn-winter rice, the Tien Giang province Department of Agriculture and Rural Development (DARD) officially launched hi-tech rice production project, also known as rice production technology 4.0 at four major rice cultivation districts as Cai Be district, Cai Lay district, Go Cong Tay district and Go Cong Dong district.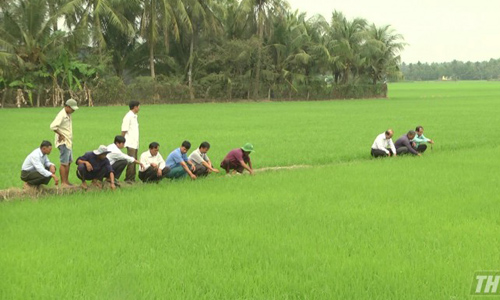 Visiting the model of hi-tech rice production. Photo: thtg.vn
There are about 60 farmers participated in the project in 13 communes including Hau My Bac A commune, Hau My Bac B commune, Hau My Trinh commune of Cai Be district; Thanh Loc commune, My Thanh Nam commune, My Thanh Bac commune of Cai Lay district; Vinh Huu commune, Long Vinh commune, Long Binh commune, Binh Tan commune of Go Cong Tay district; Phuoc Trung commune, Binh Nghi commune, Tang Hoa commune of Go Cong Dong district.
The Tien Giang province will carry out the review of rice production plan and select the location of the implementation; to support and form cooperative groups, cooperatives which have the capacity, level of receiving 4.0 applications for rice production; at the same time, to receive and transfer technology, to train human resource and establish of value chains on paddy rice, large field connection and market expansion.

In oder to successfully implement the project, the Tien Giang province Department of Agriculture and Rural Development has implemented demonstration production of 16 hectares of rice application technology 4.0 in Go Cong Dong district. Currently, this rice tea in the demonstration model is about 30 days old, developing well. It is a favorable premise to expand to 780 hectares in 2019 and to 2,300 hectares in 2020 and to replicate to 12,240 hectare in 2025.
Implementing the application of 4.0 technology rice production, the Tien Giang province aims to increase profit higher than traditional rice production, building value chain of rice and adapt to climate change, etc…
(According to thtg.vn – Translated by HOANG AN)
.