Opportunities created for domestic and foreign businesses to consume Son La agricultural products
ABO/NDO – The northern mountainous province of Son La, in coordination with the Ministry of Industry and Trade, organised a conference on May 21 to promote the consumption and export of mangoes and other agricultural products of Son La Province in 2022.
The conference was held in both in-person and online formats, connecting with 24 bridge points in provinces and cities in Vietnam and 15 bridge points in China, Singapore, South Africa, Japan, the Republic of Korea, Australia, United Arab Emirates (UAE), and more.
Son La has become the largest fruit granary in the North, with a total area of over 82,800 hectares of fruit trees and an output of more than 450,000 tonnes a year.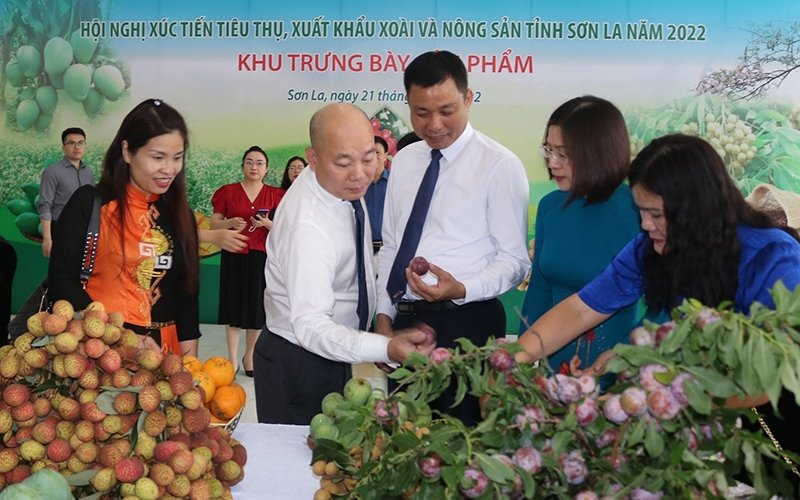 Delegates visit a booth displaying agricultural products of Son La.
Fruit products from Son La are diverse and abundant, such as: mango, longan, plum, banana, passion fruit, strawberry, custard apple, avocado, grapefruit, and persimmon. Son La Province currently has 241 growing area codes with an area of more than 3,860 hectares of fruit trees for export; more than 5,000 hectares of crops applying good agricultural production processes and equivalent standards.
Agricultural products have joined the supply chains of large domestic distribution systems such as: Big C, Winmart, Hapro Mart,and have been consumed through e-commerce exchanges: Sendo, Voso, Postmart, and Shopee. 17 agricultural products of Son La Province have been exported to 21 markets, including the US, Australia, the UK, France, Japan, the Republic of Korea, China, and UAE.
At the conference, the delegates exchanged information on the clearance of agricultural products and fresh fruits from Vietnam through the international border gate by road; guiding the implementation of quality management, traceability, area codes for growing mango and agricultural products, and standards to ensure eligibility for export to the Chinese market and some other potential markets.
(Source: NDO)
.